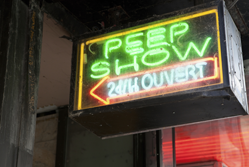 You might have heard about the new adult industry orientated sponsored top-level domain names (sTLD).
These are domain names ending in .xxx, which were finally given approval in March this year.
As part of this, the domain registry managing the .xxx domain names, ICM Registry, is implementing a phased launch.
This will let those with intellectual property trademarks and existing domain names either secure their .xxx equivalent domain, or to block on their intellectual property being used as an .xxx domain.
The people over at ICM Registry have produced a pretty reasonable flow chart to guide you through the process. The key thing to note is that the sunrise period – during which you can apply to have domain names blocked – ends in just a couple of days, on 28 October.
What does this mean for you?
In essence it comes down to this:
If your business operates in the adult industry and you want a .xxx domain, you can register a .xxx domain matching one you already own right now (as a .com or .net etc). Manufacturers of adult products can register their trademarks too. This is known as Sunrise A, and this period ends on 28 October.
If, like most of us, you are not involved in the adult industry, then you are probably looking at Sunrise B. Here you can protect your domains and trademarks from becoming .xxx domains.
For example, a fictional Bob's Widget Co making an aftermarket add-on product, Widget2000 with a site on the domain bobs-widgets.com, could secure bobs-widgets.xxx (their equivalent domain) and widget2000.xxx (a trademark) and this would prevent any other entity registering these as .xxx domains.
If you apply to have domains blocked in this way, the block lasts for ten years - and is non-refundable and non-reversible. Sunrise B runs in parallel with Sunrise A, so also ends on 28 October.
Blocking domain names sounds well and good, but there are a couple of things to watch for:
Blocking a domain is not the same as registering one. Importantly, you can't redirect visitors to your blocked .xxx domain name to your main website.
The cost of a block is quite high. Depending on who you register for, it can cost over £100 a year. That's a lot more than the cost of registering a .com domain for ten years.
Protecting your domain name
I think it needs to be said that protecting domain names shouldn't be a concern for local businesses.
Is someone really going to register your trademark as a domain name for up to £150 a year? Because this is what a full .xxx registrations appear to cost. Sony.xxx might be targeted by domain name squatters, but locallawfirm.xxx? I hardly think so.
Then there's the question of whether .xxx domain names will last. With the adult entertainment industry's trade association, the Free Speech Coalition, campaigning for a boycott of .xxx domain names, any domain registration or block could be a short-lived investment.
I guess the Free Speech Coalition is upset that a third party will profit by charging disproportionately high fees for .xxx domains. 
And perhaps they have a point: the cost is magnified when a single company needs to register multiple domains. For instance, the adult site kink.com reportedly has about 10,000 domain names and simple maths shows it could cost them around £1.5M to secure their .xxx related domains. I don't think that would be a profitable move for them - after all, they're still likely to be kink.com instead of kink.xxx.
I hate to tell of impending doom, but I just can't see mileage in this domain name extension.
Are you bothering to register any .xxx domain names for your business? Leave a comment and let us know.
This is a guest post from Phil Stott, who works for I-COM, a full-service online marketing firm. This post originally appeared on the I-COM blog.