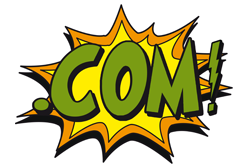 A brand's domain name is akin to the wrought iron signs which hung from 'ye old shoppe' on the High Street in days gone by.  It is the first signpost to your digital shop front and, just as on the High Street, you need to get it right to stand out from the crowd.
However, many small businesses still have not invested in the online real estate for their brand or for their flagship products. This is a failure on two counts: it's a failure to grow their digital presence and failure to understand that effective use and marketing of a domain name would allow customers to reach their store in a single click of the mouse, without ever straying on to a competitor's site.
Domain names aren't as expensive as you'd think
Online real estate can be purchased for as little as a few pounds and perhaps this is why many businesses consider it to a minor part of a wider branding strategy. Combine this with the fact that most domain name portfolios are managed by the people in charge of IT rather than branding, and it is clear to see why domain names get forgotten about.
The company I work for, Sedo, ran an industry survey at Internet World 2011. It revealed that despite keyword domain names being available for as little as £500, well over a third (36%) of UK respondents would be willing to spend more than £5,000 on the right domain name for their company.  This shows that the right domain name is now considered an essential part of a small company's brand and online presence.
Protect your assets
It is important to remember that if you do not see the value in your domain portfolio someone else will. Owning the right digital property is big business.  Even the faintest rumour of a new product often results in a flood of acquisitions by savvy domain name experts wanting to sell on keyword domains for a profit.
It's therefore important to build domain name planning into new product launch strategies and to think about multiple regions – like other countries - to ensure no one else is benefiting from your brand and marketing.
Four tips for creating your company's online real estate
1.   Unify your IT, marketing, and legal teams. In smaller businesses, these aren't always separate departments. They might even be outsourced to third parties like your IT supplier and a law firm. But whoever they are, it's important the people in charge of these areas work together to plan any expansion of your brand.
2.   Short and sweet is best. The best brands are increasingly investing in snappy domain versions of their names such as t.co for Twitter.  Short, relevant domains stick in people's minds and can be easily integrated into advertising and marketing materials.
3.   Keep an eye out for domain opportunities. Early 2012 will see hundreds of new domain name extensions becoming available as the domain name market is liberalised. This will be a massive opportunity to occupy new space on the web under new generic names like .dad or .sport.  However, the changes also increase the level of protection you will need around your core digital assets to outwit brand hijackers.
4.   Make domain names part of your wider strategy. Before launching a product, check whether or not that domain name already exists in key markets such as .co.uk and .com.  If so, try to negotiate to purchase the domain from the current owner before your product launches, so you can keep the value as low as possible.  If the domain isn't currently owned by anyone, purchase it as soon as possible.
Read more relating to domain names