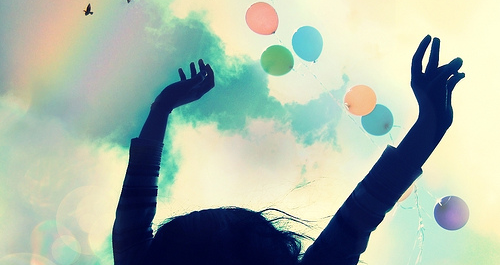 Photo credit: Camdiluv
Cassette tapes. Floppy disks. CD-ROMs. Is your hard drive heading the same way? Not yet... But you don't have to wait for your hard drive to die to imagine it in storage heaven. Businesses are already looking to the skies to store critical data and run applications, using what's called the cloud.
cloud com·put·ing: working with files and software on the Internet, rather than on your hard drive
Not only does working in the cloud keep your files and apps backed up and on the internet, it allows you to work anywhere. You don't have to be at your desk or even be at a desk at all.
Here are 10 cloud-based apps that can help you work wherever you like:
Dropbox. Dropbox is a cloud app with wow-factor: for people new to working in the cloud especially, it's very impressive. It's a folder that sits on your computer, like any other folder, but the difference is its contents are stored remotely and synced across other computers and devices that are signed into your Dropbox account or sharing folders with you. In summary, it could do to the USB stick what the MP3 did to the MiniDisc.
Because it looks like any other folder on your computer, it can also turn regular apps into cloud apps by hosting files and settings. For example, I use typing shortcut utility TextExpander. I put its settings file in my Dropbox so that my shortcuts sync across my desktop computer at home and my laptop when I'm on the move. Dropbox Basic is free and includes 2GB of storage; other account types are available.
Evernote. Evernote is sort of like Dropbox for your brain. It helps you 'remember everything' by allowing you to capture notes and ideas, photos and screen grabs, sounds and links, sync them automatically to the cloud and access them from practically anywhere.
Evernote is available through your web browser, Windows and Mac desktop apps and mobile apps for iPhone, Android, Windows Phone 7, BlackBerry and Web OS.
Evernote is free; Evernote Premium is $5 per month or $45 per year.
Google Docs. Google Docs might not be ready to take over Microsoft Office just yet, but it's edging ever closer. It includes apps for word processing, spreadsheets, presentations, drawings and forms.
You can upload files from your desktop to get started, access documents from connected computers and smart phones and collaborate in real-time with colleagues.
Google Docs is free.
Gmail and Google Calendar. More from Google now, and I include them really as a reminder that if you work on the move it is essential to have hosted email and calendar that you can access from anywhere. In particular, mobile email is the lynchpin of any cloud computing system.
Google's solution is a good one, and it'll sync with your Android phone, of course, and with your BlackBerry, iPhone, Windows and Nokia phone using Google Sync.
Gmail and Google Calendar are free.
Hootsuite. Power users will tell you that TweetDeck is the only way to manage your social media presence, but I disagree. I find its interface a bit grim, to be honest.
HootSuite, on the other hand, runs in your browser, on your smart phone and tablet device, does everything TweetDeck does and more, and it's better looking. Oh, and The White House (@whitehouse) uses it too.
HootSuite Basic is free; HootSuite Pro is $5.99 per month.
Delicious. It looked like it was all over for Delicious when Yahoo dropped it, but fans and YouTube founders Chad Hurley and Steve Chen bought it and have kept it going. What is it worth it? Yes!
Delicious is a bookmarking service that keeps all of your important links in the cloud, so you can get to them from any computer.
Delicious is free.
Instapaper. Ever get sent a link to an article that you don't have time to read right now? 'Read later' with Instapaper by clicking a bookmarklet in your web browser. Instapaper reformats the article so it's easy to read on your chosen device.
And then it syncs up so the article is ready to read on its website or offline on your iPhone, iPad or Kindle - perfect for when you do have time to read, like when you're travelling.
Instapaper is free.
Toodledo. It's not the best-looking to-do app, but it works really well. Get tasks out of your inbox by forwarding them to your Toodledo email address, organise them by folders, tags, context and subtasks, and sync them with your iPhone, Android or BlackBerry device.
Better-looking alternatives include Flow and Wunderlist.
Toodledo is free; Toodledo Pro is $14.95 per year; Toodledo Pro Plus is $29.95 per year.
Salesforce. Salesforce is CRM software that sits in the cloud, allowing you to take your customers' details with you on the move.
Salesforce starts at $2 per month and can cost up to $250 per month, depending on what you need.
Basecamp. Basecamp is project management software that's perfect for remote teams, allowing you to share files, deliver projects on time and - crucially - keep communication organised and out of your inbox (no-one needs more email, right?).
There's a free version of Basecamp; other plans can cost up to $149 per month, depending what you need.
All prices shown are in US dollars - you'll pay the equivalent in pounds charged by your credit card issuer.
San Sharma (@WorkSnugSan) is Community Manager at WorkSnug (@WorkSnug), a free mobile app and website that helps you find laptop-friendly workspaces, like coffee shops with Wi-Fi.