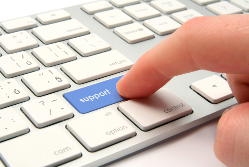 A recent IT Donut survey suggests that although 2012 could be the year smaller firms show real enthusiasm for cloud computing and mobile working, many businesses are neglecting an altogether more essential part of their business IT.
The business technology survey ran across the five Donut websites and was completed by 672 businesses, 82% of which classed themselves as 'small'. Out of all respondents, 60% said they planned to invest in technology in 2012.
The cloud takes hold
The survey shows that the gradual shift of IT services to the internet via cloud computing will accelerate in 2012.Of the companies that said they plan to invest in technology, half said they'd be looking to adopt cloud technologies in some way.
Companies attracted by the cloud's low up-front costs and innate flexibility face a growing choice of cloud computing options. Many are opting to shift applications like their accounting system to the cloud. Others have chosen to replace ageing in-house servers with internet-based cloud hosting.
Mobility breeds efficiency
Mobile working is set to be the other big winner of 2012. Of the companies planning to invest in technology, 49% said mobile working would be one of their priorities.
There may be a number of factors behind this. The continued growth in smart phone use, the adoption of tablet computers and the emergence of super-slim, light laptops (sometimes called 'ultrabooks') have certainly made mobile working more feasible.
But the benefits of mobile working feel particularly compelling this year. Going mobile can boost efficiency, a key aim for many firms in the current economic climate. What's more, the Olympics have put flexible working in the news, with the government suggesting it could ease pressure on the capital's transport network this summer.
What about business IT support?
Perhaps the survey's most surprising finding is that just 8% of companies said they're planning to invest in outsourced IT support. For firms which lack in-house IT expertise, a trusted IT support company can be a valuable asset, providing expert advice to ensure investments in new technologies - like the cloud – are made wisely.
What's more, a good IT support company helps preserve business continuity, performing maintenance and fixing problems to prevent downtime which can cost thousands.
In a world where business IT is ever-changing and more vital than ever, having a trusted IT support company can give smaller firms a real competitive edge.
Related links from the IT Donut: