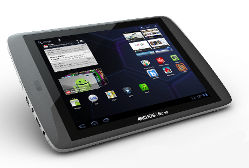 Ok, I'll admit it. I may have judged things a little early when I said I couldn't quite see the point of tablet computers. They're here to stay, without a doubt, and they're being put to all kinds of interesting uses by all kinds of forward-looking businesses.
But there's still a barrier to mass adoption of tablets, and that's the price. The most popular, most lusted-after tablet computer by far is Apple's iPad.
It starts at £399, but you'll need to spend more like £500 if you want space for lots of files and apps (particularly if you need to store lots of video) or want to be able to get online when you're not in a Wi-Fi hotspot.
Unless you were lucky enough to snag a dirt-cheap HP TouchPad last year, the iPad's competitors aren't much cheaper either. The Samsung Galaxy Tab is powerful enough to give the iPad a run for its money, but you're still looking at spending at least £350. For a gadget which is still – if we're being honest – a bit of a punt for a lot of companies, that's a fair bit of cash to splash out.
Here's a capable tablet computer for £200
Actually, there's no shortage of cheap tablet computers on the market. The thing is, most of them either lack the power for serious use, or have simply had too many corners cut in an effort to keep the price tag down. Buy one for your business and you'd be virtually guaranteed disappointment. Hardly a fair trial for new technology in your company.
Things may now be changing, albeit slowly. There's a relative newcomer that seems to have a powerful processing chip, lots of memory and a decent screen. It'll almost certainly lack the hewn-from-granite feel of an iPad, but then at half the price you won't be complaining too much.
This affordable-yet-powerful tablet computer is the Archos 80 G9. Together with its larger sibling, the Archos 101 G9, it represents impressive value on paper. Prices start at under £200, and for £250 you can get a tablet that looks like it'll give far more expensive models a run for their money.
Spec-wise, it ticks all the important boxes:
Dual-core central processor, to help the tablet cope with more than one task at once.
Proper multi-touch screen, so you can use two or more fingers together - for instance, to pinch-and-zoom.
Good connectivity, including connections for a monitor and memory card slot.
Crucially, the Archos runs Google's Android operating system. Tablets running Android have fast emerged as the main rival to Apple, ensuring you'll be able to access a good range of applications and tools. It scores over other cheap tablets by being able to run the very latest version of Android (called, amusingly, Ice Cream Sandwich), which virtually guarantees it'll last a good while.
The first of many cheap tablets?
As with all cheap tablet computers, the Archos will have its compromises. Reviews have suggested it feels a bit plasticky, and if you compare it side-by-side with an iPad, it'll be obvious where the extra cash goes.
There's an excellent chance this end of the market will grow significantly in the months to come, particularly if Amazon decides to release its impressive Kindle Fire in the UK. As the choice of cheap tablets go, better options may emerge.
But right now, it's finally possible to trial a tablet computer without spending the same amount you'd spend on a decent desktop computer. Perhaps it's worth considering for your company.
Have you bought a cheap tablet computer? Was it up to scratch or did it disappoint? Leave a comment to let us know.