Any doubts about whether tablet computers have a future have faded. Apple's iPad might have seemed like a bit of a gamble when it was first announced, but it's been an enormous success.
For proof, you can check the company's impressive sales figures or simply count the number you spot next time you're on a long train journey.
You can also look at new tablet devices. Everyone wants a slice of the action, and recently we've seen two major announcements which could shake up the tablet world.
Microsoft Surface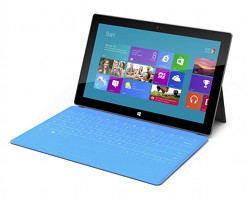 Microsoft revealed its new tablet computer, Surface, at a hyped-up media event in LA. Surface is a touch-screen tablet computer which Microsoft has designed and built itself. That's a real departure for a company which usually focuses on software.
Surface will come in two flavours: one running a cut-down version of Microsoft Windows for mobile devices, the other running a full-blown version of Windows.
Initial reactions to Surface have been positive: the 11" device looks sleek and capable and has a retro rubber keyboard which doubles as a screen cover. But it won't be available for months, and as no details are available about battery life or price it's hard to judge it fairly.
Having said that, the next version of Windows is meant to be tablet friendly. If it really is (previous attempts have been less than impressive), Surface could be a real contender for business use, because you'll be able to run all your usual Windows apps.
Microsoft Surface is not yet available, and prices are still to be confirmed.
Google's Nexus 7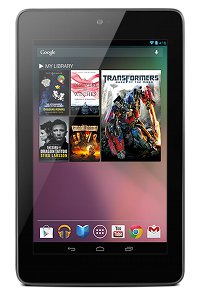 The other tech giant to jump on the tablet bandwagon this week was Google, which showed off its Nexus 7 tablet. With a smaller screen (7") and prices starting from £159, it's unlikely to be a direct competitor to Surface.
But this light and portable tablet may find business fans. At that sort of price, it's easy to envisage companies equipping sales and mobile staff with them as standard.
The most significant feature of the Nexus is its quad-core processor and 12-core graphics processing unit. In English, this means the Nexus 7 can crank up to run demanding apps. But at other times it can turn some of the cores off to extend battery life.
You can buy the Nexus 7 online from PC World Business, Currys, Comet, or direct from Google.
What's next for tablets?
These announcements show that it's an exciting time for tablet computing. If your company is thinking about investing in these new devices, your choice is increasing and stiff competition may drive prices down.
But Surface and Nexus also spell interesting times for business computing as a whole. Are tablet computers soon to become our mobile computing tool of choice? And if so, what does that mean for expensive, super-slim ultrabooks