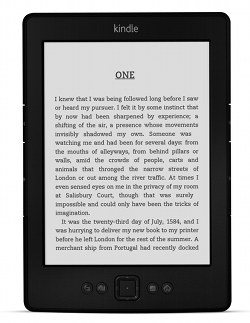 If you live under a rock or something (or, y'know, just don't spend your days obsessively reading technology news websites) then you might have missed the exciting news that Amazon made a big product announcement a few days ago.
The online giant's Kindle Fire tablet computer has been available in the US for quite some time now. Now the company has announced that two improved models are coming to the UK. On paper, they're a tasty proposition:
The Kindle Fire, a £129 tablet with a 7" screen and 8GB or storage space (not masses, to be honest, but enough to be useful).
The Kindle Fire HD, which costs from £159 and has a higher-resolution 7" screen, more power and more storage.
Neither of these will be available until 25 October, so it's very hard to say how much of a good buy they'll be until they're out there where we can test them. But they should really do something for the tablet market, posing a serious threat to Google's Nexus, another 7" tablet which gets good reviews and is available from PC World for under £200.
However, although all the attention has been directed at the Kindle Fire, I reckon it's a different Amazon product that's going to be a must-buy for many people.
The new model of its Kindle e-reader will be here on 12 September, and it looks good. Already the best-known e-reader out there, this Kindle is smaller and lighter than any previous models.
But it's the price that's the real eyecatcher. At just £69, it costs about the same as ten paperback books, putting it well into impulse buy territory if you read a lot or commute regularly.
The weight reduction means it might just be the best e-reader yet. The only downside I can see is that there's no 3G connectivity, which means you need to be connected to a wireless network to download books and content.
Whether for reading business bibles on the train or escaping into a novel when you need a break, I think the new Kindle will be making its way into the bags and briefcases of many business owners.
Getting your hands on a Kindle
The new Kindle e-reader is released on Wednesday, and the two colour screen models will be available from 25 October. You can order all models now direct from Amazon.