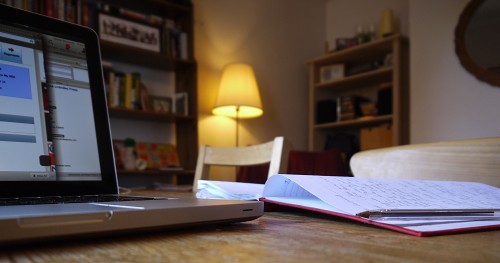 A laptop and notepad - all you need? (Image: slightly everything on Flickr)
Forget the briefcase and the sharp suit. Ditch the oversize Filofax. Never mind the company car. The most important piece of equipment you need to successfully start a business is a laptop.
That, at least, seems to be the opinion of the next generation of entrepreneurs. Dell asked 380 students aged 15 - 24 about their business aspirations. Around 63% wanted to start a business after college or university.
What's more, 70% said they felt a laptop was the most important item for business success. 13% said a mobile phone was more vital.
You could file this in a folder marked 'the bleeding obvious', but actually I think it highlights the ongoing shift both in how business is run and where the greatest opportunities lie.
With flexibility and mobility increasingly contributing to business success, the laptop can be your mobile office. Connect to a wireless network, log on to a cloud computing service, and you have everything you need to work from anywhere.
That means you can be more efficient, with minimal overheads. And that might enable you to undercut competitors and win more business.
Clearly, these soon-to-be-entrepreneurs get it. If your business hasn't yet investigated how mobility and the cloud can help you work more efficiently then perhaps now's the time. Otherwise you might soon find there's a young business owner stealing your customers.