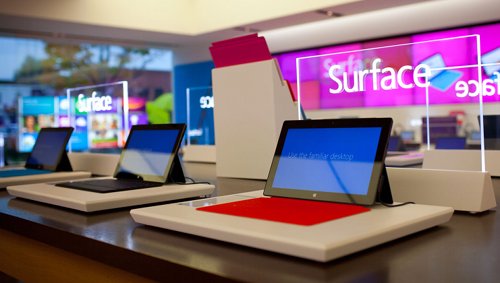 Small businesses traditionally stick with laptops,  does Microsoft Surface mean they'll now get the benefits of tablets too?
Tablets have really taken off in the past couple of years, with all of the major computer brands now in the market. Apple recently released its iPad Mini, and a number of other manufacturers have really upped their game.
Laptop or tablet?
The debate rages over whether these new tablets or traditional laptops are better for business. The real solution however, could lie with Microsoft's new Surface: a tablet with laptop power and capabilities.
The overall consensus has been that tablets are best suited to displaying or digesting information, whereas laptops are better for business applications. The intrinsic tactility of a tablet suits it to presentation, while the superior power and setup of a laptop suits it to actual work.
Surface Pro then, the forthcoming model that runs the full version of Windows 8 (don't get it confused with the Surface RT, reviewed recently on this blog), is a hybrid of sorts.
It can be used as a sleek and attractive tablet, ideal for passing round a boardroom. But attach the keyboard and it should be a more effective workstation than any other tablet can hope to be.
Your business apps, anywhere
Fans of laptops will be pleased to see that Surface Pro will come equipped with an Intel i5 processor; a mid-level central processing unit that you'll find in many modern laptops.
It will mean the Surface should be capable of handling a raft of traditional Windows software with ease, which is something most tablets can't currently do. The clip-on keyboard is proving very popular, as it instantly turns the tablet into a workstation.
However, the real benefit of having a Windows operating system is, of course, that all your usual software should work on Surface Pro too.
Surface criticisms
Criticisms of the Surface are mainly aimed at its tablet aspects. For instance, reviews have suggested Surface is not as capable of displaying information attractively as rivals such as the iPad.
If you're looking to impress clients, it seems that the offerings from Apple are a better choice. This is partly down to screen quality and Apple's slick interface.
The other criticism is the price. In particular, refurbished laptops offer a lot more power in terms of relative cost. If you're looking to issue several members of staff with a computer, a laptop is by far the most cost effective option.
In conclusion, it appears the debate is far from over. Surface is a go-between, but it is not as good as either a tablet or a laptop for their respective specialities. The decision of which to buy probably relies on what you're going to be using the computer for.
If you have a desktop and just need something to present information to customers on, then a tablet is best. If you need to be able to work on the go, then a laptop is probably essential. For something in between, Surface may do nicely.
Surface Pro will be available to buy from Microsoft from January. The price is expected to be around £700.
Adam Hart-Davies is a computer enthusiast who writes on behalf of SCH Trade, who supply excellent value refurbished laptops.