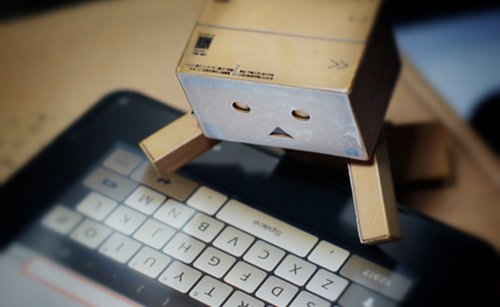 He brought his own. Did you? (Image: Flickr user kodomut.)
So, we've finally perforated the delicate seams of a new year, torn our way through all the red tape and emerged the other side blinking bleary-eyed into the white hot future that sits before us! Well, either it's white hot out there or it's been snowing again - it's hard to tell.
You've already been hit left, right and centre with predictions for the year ahead. And while 2012 was undoubtedly the year of the cloud, the most talked-about technology for 2013 is bring your own device, or BYOD for short.
What is BYOD?
If you're not already aware, BYOD is a trend in company IT policies that allows employees to use their own technology to do their work. The idea is that it instils a better work ethic, promotes a work-anywhere attitude by allowing access to company systems remotely, and increases employee loyalty by giving staff a greater degree of flexibility in their workflow and work schedules.
It all sounds brilliant. And it is.
So what's been holding BYOD back in 2012, and what will change that this year? Whilst the cloud was still pedalling its way to stardom, BYOD had to make some small compromises on its far-reaching ideals.
Chiefly, companies are scared. They fear that allowing employees to access company data on their own devices will lead to a security breach somewhere down the line.
Although many companies already allow staff to access their email through other devices, it's this fear that's holding most organisations back from embracing BYOD.
Get ready for BYOD
This year then, if a business is wishing to get the most of its people, it absolutely must start implementing systems that allow for BYOD.
That means ensuring that:
Data can be managed remotely
Data is securely backed up
Data can be deleted remotely if a device goes missing
Fortunately, there are services available that can do this already. What's more, with the cloud garnering increasing support (the latest European Commission cloud strategy, Unleashing the potential of cloud computing in Europe is a clear sign of this) 2013 really could be the year of the mobile office, the year our work ethic is revolutionised and the year companies rewrite their IT philosophy.
One way or another, it's going to be an exciting 12 months. What's your stance on BYOD? Good? Bad? Ugly? Let us know in the comments.
This article was written by Rob Vicars on behalf of iHotdesk, which provides comprehensive, cloud based IT support and BYOD systems in London and beyond.