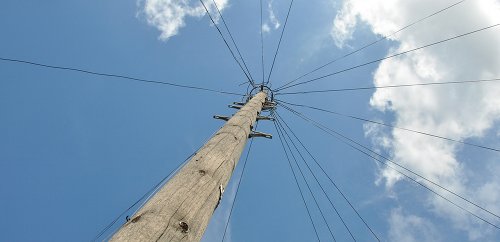 Image: Flickr user opopododo.
Have you noticed how frequently the term 'disruptive' is used to refer to technology? I often think it's off-putting for many businesses. After all, the last thing that any of us want is more disruption.
Cloud telephony services are often described as being disruptive. But in reality, cloud telephony can be much less disruptive to businesses than other types of telephone system.
However, cloud telephony certainly is disruptive to traditional telecoms service providers and carriers, because it offers features that they cannot provide.  
Let's take a closer look at how cloud telephony compares with traditional on-site telephone systems.
Cost savings
Cloud telephony can offer significant cost savings over traditional digital lines or even VoIP telephone systems. As with other cloud services, you eliminate many of the infrastructure and maintenance costs of an on-site system.
You can either introduce cloud telephony alongside your existing telephone system or as a complete replacement. Either way, you will almost certainly save on line rental and call costs. Expect to pay as little as 0.75p per minute for calls to landlines, or 2p per minute to call mobiles.
In addition, you should get the flexibility of a per-user, per-month pricing plan, without a lengthy contract. The cost can start from around £10 per person per month.
Scalable and flexible
Cloud telephony is inherently scalable, making it ideal for growing businesses. This means you never have to pay for more services than you need at any given time.
Because cloud telephony is delivered over the web, it's easier to bring branch offices and remote workers onto a single phone system.  You can scale up and down easily and economically without the headaches of changing or merging lines.  
Furthermore, employee mobile phones can be integrated with your cloud telephony system, enabling business calls to be logged and even recorded in the cloud.
Employees can be given a business phone number which routes to and from their mobile, meaning they don't have to use their personal number for business. It's a great way to allow staff to bring their own device, without revealing their personal numbers or running up unnecessary call charges.
Overall, you'll get more control over mobile call costs (which can be a significant proportion of your total telecomms bill) and be able to manage employee mobiles more effectively.
Enable, don't disrupt
Cloud telephony can give your business access to sophisticated features that were once the preserve of large companies.
You may be able to integrate your email, CRM or other business systems with a cloud telephony system. This will allow you to click-to-dial, or display information about a caller on screen before your telephone agent answers the phone.
In contrast, it's usually much harder to integrate traditional phone systems into your other business systems.
Reporting for business
A cloud telephony system also provides flexible call recording. You can choose to record every call, or just those that fit criteria you set.
Call recordings are stored in the cloud, meaning you can access and play them from any internet-connected computer. Recordings can also be linked to customer records in your software.
Combined with comprehensive reporting, you'll get a complete, detailed insight into your company's sales processes, from initial enquiry to closing the deal.
So, with its inherent flexibility, lower costs, and business-enhancing features, cloud telephony can be compelling for almost every company. Since when has this kind of good business sense been disruptive?
This piece was written by Mark Seemann, CEO of SYNETY, a cloud telephony firm.