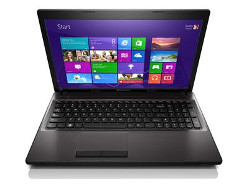 If you're looking for a good business laptop that isn't going to cost you a fortune, this Lenovo G580 might well fit the bill.
It's currently available from Dabs for £359, which is an excellent price for a decent specification laptop from a well-respected manufacturer. As an all-round business machine, it's great value.
See it now on the Dabs site >>
About this tech bargain
The Intel Core i5 processor that powers this Lenovo laptop is more than capable of handling pretty much any business task you throw at it. Together with 6GB of memory and the 500GB hard drive, it should last you a good few years.
Perfect if you're mainly office-based but need to work on the move occasionally, this Lenovo G580 also comes with Windows 8.
It is a very good price and - as always - we're not sure how long Dabs will be offering it for. So if you're interested, best to see the details and buy online now.