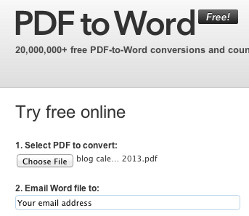 PDF files aren't designed to be edited. But how many times have you received a PDF by email, only to find you need to make a change to it?
For this tip of the week (TOTW), we explain how to edit a PDF.
You probably use the free Adobe Reader software to open PDFs, but this is no good for making changes. One option is to fork out £250+ for Adobe's Acrobat package. But if that doesn't appeal, there are a number of free tools out there that let you edit PDF files.
Edit a PDF with PDF to Word
Because PDF files simply aren't designed to be edited, it's a good idea to convert your troublesome PDF into something more edit-friendly.
Looking for a deal?
See the latest business tech bargains we've found online.
Or buy IT online now from these trusted suppliers:
That's where PDF to Word comes in. It's a free online tool that converts your PDFs into Microsoft Word files. You can then open and edit them with a recent copy of Microsoft Word, which you'll almost certainly have on your business computers.
If your PDF has a complicated layout, lots of graphics or unusual fonts then PDF to Word isn't always able to convert perfectly. But it does a really good job most of the time, leaving you with a nice Word file that's easy to make changes to.
How to use PDF to Word
Here's how to convert your PDF into an editable Word document:
Make sure your PDF file is saved somewhere you can find it, like on your desktop
Go to the PDF to Word website
Click the Choose File button
In the box that appears, find and double-click the PDF file
Type your email address into the Your email address field
Fill in the awkward CAPTCHA (the distorted letters and numbers) to prove you're human
Click Convert to Word
Your PDF file will be uploaded to the service, and after a minute or two you'll receive a Word document in your email. When you open it, it'll be the same as your PDF, but in fully editable form.