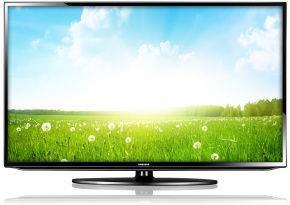 Flatscreen TVs have all sorts of business uses. Many companies use them for presentations in meeting rooms, to show key statistics in the office, or to display corporate information in reception.
This business tech bargain is the Samsung 37EH5000 37" Full HD LED TV, available from eBuyer for just £299.99 including VAT and delivery.
Prices have fallen massively in the last year or so, but £300 is still an excellent price for a 37" model from big-name manufacturer Samsung.
See details and buy online now >>
About this tech bargain
This Samsung 37" high-definition TV can be hooked up to computers and other devices via its two HDMI ports. These should work fine with any computer that has an HDMI or DVI connection (just make sure you get the right cable).
However, if you want to use it with older computers that only have a VGA connection, you'll need a VGA to HDMI adaptor too.