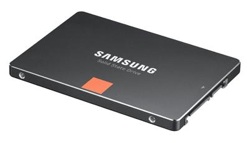 Solid state drives (SSDs) are superfast replacements for traditional computer hard drives.
Because they rely on flash memory instead of spinning magnetic disks, they have no moving parts and can access data more quickly.
Switching the standard hard drive in your laptop for an SSD can lead to impressive performance improvements. The only problem is that SSDs tend to cost a bit more than an equivalent hard drive.
Having said that, prices have dropped in recent months, and we've just spotted a great deal: currently, you can grab a 500GB Samsung SSD for £249.99 over at Dabs.
That's a good price. But as long as you buy before 15 May, you'll be able to claim £40 cashback, bringing the effective price down to £209.99. Now that is a tech bargain!
About this tech bargain
This Samsung SSD holds up to 500GB of data, which should be enough for general business use. In fact, it's very generous in SSD terms, and will give you space for an awful lot of music and a fair few films too, making it a good all-round option.
It's a standard-size unit which will slot straight into most laptops in place of the existing hard drive. It comes with all the normal fittings you might need, plus software to help you move your data across.
Replacing your laptop's hard drive with this should lead to noticeable performance improvements, particularly when it comes to starting your computer up, opening software and working with large files.