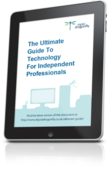 Francesca Geens runs Digital Dragonfly, a company that helps independent professionals find and use the best technology for their needs.
She's just written The ultimate guide to technology for independent professionals, a really comprehensive ebook that's packed with useful advice and information for independent professionals.
If you work for yourself as a consultant, writer, lawyer, accountant or other type of independent professional, it's really worth you hopping over to the Digital Dragonfly site and downloading this book.
At the very least it'll give you lots of ideas about how you can be smarter about how you use technology. And you might even find it saves you money next time you're looking to make an IT investment.