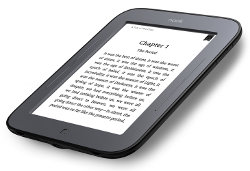 A few months back Amazon dropped the price of its Kindle e-reader to £69. Back then we reckoned that was enough to take e-readers into impulse buying territory - especially for people who get through a lot of books.
Well, this latest business tech bargain blows that Kindle price out of the water. You can currently pick up the Barnes & Noble Nook e-reader for just £29.
It's available at that price from a range of companies online, including the official Nook store, John Lewis, Argos, Sainsburys and Currys.
About this tech bargain
Weighing 165g and with a 6" e-ink screen, the Nook very similar to Amazon's £69 Kindle, except that it also has a touch screen to make navigating books easier. It's received excellent reviews and there's a huge range of e-books available from the Barnes & Noble Nook Store.
A nice touch is that the Nook also supports the open EPUB format, allowing you to read books from other sources and borrow from your local library, if they offer that service
Quite simply, this is the best-value e-reader on the market at the moment.