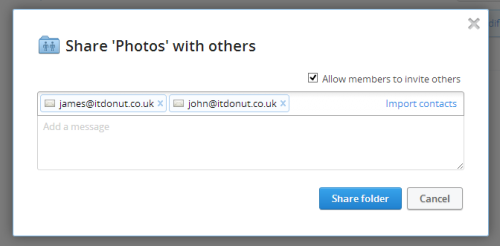 Email is still most people's go-to method when they need to share files or documents with other people. It's quick and easy to attach and send files.
But when you need to send and share a large quantity of files - or just a single, big file - email is impractical. So, for this tip of the week, we explain how to use a service called Dropbox to share files easily.
To get started, you'll need to to sign up to Dropbox:
Go to the Dropbox website and enter your details to get a free account.
You'll need to let the Dropbox installer download, then run it to install Dropbox on your computer.
The installer will ask you for the username and password of the account you just created.
Then you'll be prompted to choose a package. Just go for the 2GB free option.
A short tour will explain a little more about Dropbox.
Your Dropbox folder
You now have a special Dropbox folder on your computer. Any files you save here will be automatically copied to the Dropbox servers. This means you can:
Sign in to Dropbox from other computers and access those files.
Use Dropbox to back up key files, in case your computer breaks.
Share selected files with other people.
Enable sharing in Dropbox
Dropbox makes it easy to share a particular folder with people you choose. So, to share files, you need to make sure they're saved in a folder which is in your Dropbox.
Once you've done that, here's how to share them:
Click the Dropbox icon on your Windows task bar.
(If you use Windows 8, it's easier to click the Dropbox app on your Start screen.) 
Click Dropbox Folder
(In Windows 8, you can skip this step.)
Your Dropbox folder will open. In the window, find the folder you want to share and right click it.
In the menu that appears, click Share this folder...
A web page will open with an input box. Type in the email address of each person you want to share the folder with (see image).
If you don't want those people to be able to share the folder with others, untick Allow members to invite others.
That's it. Dropbox will email each person explaining how to access the shared folder.
How do you share files and folders with other people? Do you know of any simpler ways?