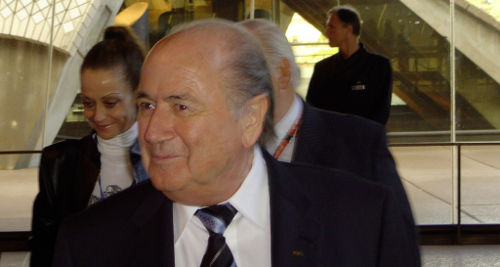 Sepp Blatter had his Twitter hacked this year. (Image: AsianFC on Flickr.)
Social networks. Once you've got your head round them, they can be a good way to find new customers, and a great way to build the profile of your business. Our sister site, Marketing Donut, is packed with social network advice if you need it.
IT deals
See the latest business tech bargains we've found online.
Or buy IT equipment now from these trusted suppliers:
But over here on IT Donut, we like to take a more cautious view and think about the risks involved in these new channels.
Unfortunately, there are security risks attached to most aspects of business IT. And while you can certainly use tools like Twitter successfully without knowing about these concerns, if you do know about them then you're far less likely to come to any harm.
A few weeks ago, for instance, Sepp Blatter was targeted on Twitter, though given the Head of FIFA's tendency to make controversial statements, some might argue it was hard to tell. And lots of businesses have fallen victim to social network hacks, including The Telegraph, McDonalds and Jeep. 
It happens to other individuals and companies all the time too, often via phishing attacks that trick people into giving away their credentials. Symantec's Internet Security Threat Report found the number of phishing sites that spoofed social network sites increased 123% last year.
If you use Twitter - or other social networks - for your business, it's a good idea to get clued up about social network phishing attempts. Here are some tips to keep you safe:
If you're signing in to a social network, check the website address carefully. Phishing attempts often use addresses that are very similar to the legitimate site. For instance, they might try their luck with a URL like tw1tter.com.
If the website uses a secure connection (starting https://), click the padlock in your web browser and make sure the details look legit (see image, right).
Be suspicious of links on social networks from people you don't know. And don't click links in messages from friends or followers that seem odd or out of character. Just one click on a dodgy link can compromise your account.
Use a different password for each of your accounts. That way, even if one account is hacked, the others will stay safe. Be sure to use strong passwords too, of course.
Don't answer 'yes' when prompted to save your password. Instead, rely on a strong password committed to memory, or stored in a safe password management service like LastPass or 1Password.
Use two-factor authentication if possible. If you only do one thing, do this. Two-factor authentication makes it much harder for hackers to break into your account. We've explained two-factor authentication here, and here's how to set it up on Google, Twitter and Facebook. Do it now.
Have you suffered any social media security problems? Leave a comment and let us know.