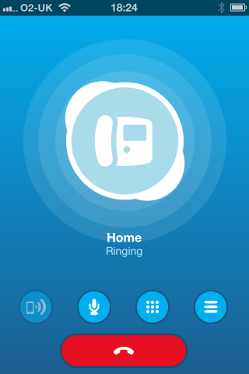 Last week we wondered if it was time to start ditching our touch screen mobile phones for no-nonsense 'dumb phones'.
However, if you travel abroad much, there's at least one very good to stick with your powerful handset.
You can use it to call home for less. A lot less, in fact. For this Friday's tech tip, we explain now to slash your roaming costs.
Slash your roaming costs
When you make calls back to the UK from overseas, you probably use your mobile network's roaming service. This lets you place calls through a local network while you're abroad.
It's convenient, but expensive. Although roaming charges within the EU could be abolished next year, today you'll typically pay 20p a minute to call the UK from an EU country. Calling from the USA can cost 90p a minute. (These prices are O2 business rates).
To avoid these painful charges, you can use a voice over internet protocol (VoIP) app. There are lots out there, but Skype is one of the most popular and easiest to use.
Sign up for Skype
To get started, sign up for Skype using your computer. It only takes a couple of minutes. Take a note of your username and password - you'll need these later.
You'll be given the option to download Skype for your computer as you sign up. You don't have to do this, although you can if you like.
You need some credit on your account to call normal phone numbers. You can add a minimum of £10: select your username at the top of the Skype website, choose Buy Credit and follow the instructions on screen.
Finally, install the Skype mobile app on your smart phone. There are versions for iPhone, Android, Windows Phone and BlackBerry.
Place your first call
To make your first call with Skype, make sure your phone is connected to a Wi-Fi network. This could be the Wi-Fi service in your hotel, a local cafe's network or any other connection.
If you're not on Wi-Fi, Skype may route calls through your phone's roaming data connection. This can be expensive. (To make sure this never happens, turn data roaming off. See instructions for iPhone, Android and Windows Phone.)
Once you're sure you're on a Wi-Fi connection, follow these instructions:
Open the Skype app.
Enter your username and password, then tap Sign In.
Once you've signed in, tap Call Phones at the bottom of the screen.
Enter the phone number (remember to include any international codes), then tap the green phone icon.
That's it - you can talk on your phone as normal. Once you're done, hang up by tapping the red phone icon.
To see how much the call cost, tap Profile, then Skype Credit. You'll see your remaining Skype balance.
How do you keep costs down when you're travelling on business?