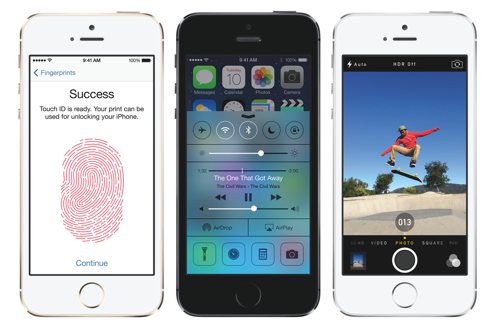 In what has become a traditional September event, Apple last week announced the latest additions to its iPhone range.
If you're in the market for a new business mobile, here's our quick guide to the new iPhones:
Apple has announced two new models. iPhone 5s is a significantly improved version of its popular iPhone 5. The new kid on the block is iPhone 5c, which is a tweaked version of the iPhone 5 in a new coloured case.
Prices are going up slightly. To buy iPhone 5s outright will cost £549 — £709. iPhone 5c is cheaper, at £469 — £549, but it's hardly a low-cost option. If you get one on a mobile contract then it will cost you less up front.
iPhone 5s gets some significant upgrades compared to the current iPhone 5. The camera is better and there's a fancy new 64-bit processor which should make it run much faster than previous iPhones.
There's a new fingerprint sensor built into the home button of iPhone 5s. This will allow you to unlock the handset and authorise purchases from iTunes and the App Store using your thumbprint. (More on this in a forthcoming blog post.)
When you buy a new iPhone, you'll now get Apple's Pages, Keynote and Numbers apps included. These apps are Apple's mobile equivalents to Microsoft Word, PowerPoint and Excel and could well make you more productive on the go.
You'll also get Apple's redesigned iOS7. This is the latest version of the operating system that runs on your iPhone. It has a new 'flat' design and some nice features, like a tool called AirDrop that makes it easy to share files with other iPhones.
Should you buy a new iPhone?
It's been a while now since any new smart phone has offered much more than incremental improvements on earlier models. And it's a similar story with iPhone 5s and 5c. Sure, the fingerprint reader is neat and other improvements sound welcome.
However, if you already own a relatively recent iPhone (a 4s or 5) then there's no compelling argument here to upgrade, unless you've filled your current handset to capacity.
Owners of earlier iPhones will probably find they're getting a little long in the tooth by now. In that case, upgrading to one of the new models probably isn't a bad move.
Similarly, if you're considering buying your first iPhone then now is a good time, because it'll be a year or so before another improved model is announced.
In all cases, unless you're set on having a colourful iPhone or the price difference really matters, you'll be better off opting for the 5s over the 5c. It's much more powerful, has much better features and is likely to last you longer as a result.
Remember the competition
Don't let all the buzz around the new iPhones blind you to competing handsets. While Apple arguably offers the most integrated and simple user experience, other manufacturers offer smart phones that you might find more suitable — especially if you're not already tied into Apple's way of doing things.
CNET has a good comparison of how the iPhone 5s and 5c stack up against competing handsets from HTC and Samsung. Suffice to say, if Apple isn't your thing, there are plenty of powerful alternatives out there.
iPhone 5s will be available from Apple on 20 September. You can order iPhone 5c now. Learn more >>