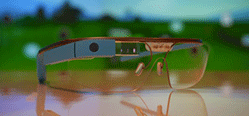 I met a bloke wearing Google Glass a couple of weeks ago. The opportunity for conversation was brief, as I was on the down escalator in a tube station, but I managed to ask how he was finding it.
"It's switched off at the moment," was his initial response, "but it's really useful when it's turned on." He then veered off towards his platform, so I didn't get the chance to ask him to expand on this insightful evaluation of Google's headline-grabbing smart glasses.
It's becoming normal
The encounter got me thinking though: a year ago, if I'd seen someone wearing glasses that can understand speech, give directions and record video, I would have been astounded. But 12 months later my reaction was simply mild surprise.
It just goes to show how quickly things change. It made me wonder what wearable technology holds for us in 2014 — and what opportunities this emerging sector will bring for business.
Wearable tech is on the way
Wearable technology is about much more than Google Glass. While these smart glasses have caused controversy and excitement, other wearable tech already available includes:
Fitbit, a wireless tracking device that measures how active you are and encourages you to do more exercise.
Jawbone UP, a similar device that tracks how you sleep, exercise and eat.
Samsung's Galaxy Gear, a 'smart watch' that lets you make phone calls and send texts.
But that's just the tip of the iceberg. Gadgets proposed or under development include clothing that connects to your Facebook account, a ring that acts as your bus pass and a nappy that monitors the health of your baby.
Wearable tech and your business
Quite simply, we're going to see a wave of wearable devices hit the market in 2014. Some will succeed. Many won't.
But it seems obvious that wearable technology will bring advantages and opportunities for businesses. For instance, it's not hard to see how something like Google Glass could be useful in a warehouse or factory environment.
Some firms will be keen to develop wearable tech themselves. Others will rush to release apps that work with gadgets produced by other companies.
It's early days, but if you're interested in learning more about wearable technology then you could do worse than head to the Olympia Conference Centre in London next March. That's when the UK's first wearable technology show will take place — and a great chance for you to see what's coming in this new sector.
Image of Google Glass via Flickr user Ted Eytan, under Creative Commons.