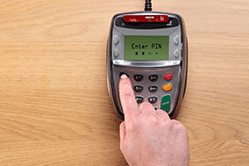 If you want to start accepting card payments, there's a wide range of card payment machines to choose from. With so many options available, it can be hard to know where to start.
The first thing to do is consider your business and your customers. What do you sell? Are you always at a desk or are your customers spread out? How do you carry out most transactions: face to face, over the phone, online?
Once you answer these three questions, the type of card payment terminal you need should become clear. There are three basic types: 
Countertop card payment terminals. These operate from a fixed location. They can operate via dial-up (using your phone line) or over your existing broadband connection, and fit on to most shop counters.


Mobile card payment terminals. These have a SIM card like a mobile phone and are used mainly by delivery services, market traders and other businesses on the go — anywhere where there isn't a fixed point of sale or broadband connection.
 
You need a mobile phone signal to use a mobile card payment terminal. Some of use an app on a smart phone along with a Bluetooth connected chip and pin keypad.


Portable card payment terminals. These are popular with hotels, restaurants, bars, hairdressers, coffee shops and in other situations where the customer is not always in the same spot.
 
The terminal will operate within a certain radius of its base unit, which connects to your phone line or broadband like a countertop terminal.
One other thing to consider is whether you'd like to have the ability to take contactless payments, where customers can pay smaller amounts by waving their card over a card reader, instead of having to input a PIN.
To encourage use of contactless payments, some payment providers are offering lower commission rates on debit card payments, so if this appeals to you and your customers, it could be worth your while.
All types of card payment terminals are available with contactless functionality.
Andy Macauley is chief operating officer of Handepay.