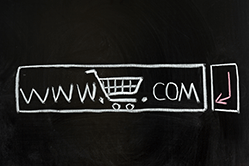 IT for Donuts is our regular Friday feature where we explain a tech term or answer a question about business IT.
This week: how to buy a domain name. If you've chosen the domain you want for your website, how do you go about securing it?
Who sells domain names?
Although domain names are controlled centrally (for instance, all domains ending in .uk are managed by a non-profit organisation called Nominet), they can be bought from many different companies.
These companies are called domain name registrars. They can register a domain name for you, enabling you to use that domain for your website, email and so on.
Major domain name registrars in the UK include GoDaddy, 123-reg, Heart Internet, 1and1, Fasthosts and Names.co.uk.
To buy a domain name from one of these providers, go to their website and search for a domain. Choose the one you want and enter your payment details. It's that easy!
How does buying domains work?
When you buy a domain name, you get the right to use it for a certain period of time. When that period ends, you must renew your domain to keep using it. You can usually buy a domain for anything from one to ten years.
You can normally register your domain with one company, host your website with another, and then link the two so that people who type in your domain name end up at your website.
However, it's important to check how easy it is to do this. It often involves some technical steps.
Many domain name registrars offer support to get everything working. But for a hassle-free setup, it can be easiest to buy your domain name and web hosting from the same company.
You might also get your domain name free or discounted if you buy it as part of a bundle that also includes hosting and email services.
What are the catches?
The domain name market is competitive, so registrars frequently offer deals to tempt new customers in.
However, these heavy discounts usually only apply to the first year's registration. After that, you can end up paying an inflated renewal fee.
Other things to check include:
Watch out for lock-ins. Once you've bought a domain, the registrar should make it easy for you to transfer it to another supplier or point it at a different website, without excessive charges.
Get it in your name. Your domain is central to your online brand, so make sure it's registered in your name — not that of your web designer or another supplier.
Auto-renewal can be handy. This means the registrar will renew your domain for you when the registration period expires. (Of course, you may prefer to renew manually to retain more control over payments.)
Finally, be aware that many domain name registrars now offer domains for sale on both the primary and secondary markets.
The primary market is where most people buy their domains. When you buy from the primary market, you're buying a domain that nobody else currently owns. These domains are available at standard prices. Expect to pay around £5 a year for a .co.uk domain, or £10 — £15 a year for a .com.
The secondary market is where people trade domain names that they already own. Prices here tend to be higher and less predictable — you can pay anything from £50 to thousands.