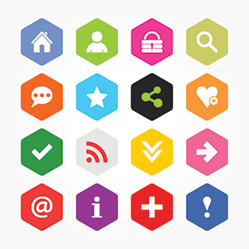 A few carefully-chosen web browser plugins can make all the difference to how you use the internet. You'll work faster and feel smarter when you're online.
So, what is a browser plugin and which ones should you choose?
What is a web browser plugin?
A web browser plugin is a piece of software that adds extra functions to your web browser. Plugins are also called add-ons or extensions.
Most are created by to add a feature that isn't available with a web browser as standard.
Plugins are available for all major web browsers and most are free. You can search plugins online for Google Chrome, Microsoft Internet Explorer, Firefox and Apple's Safari.
If you've not explored web browser plugins before, you'll probably be surprised at the range available to you. Here are six of our favourites:
1. Nimbus
Nimbus lets you take a snapshot of the website you're viewing and save it to your computer as an image. It's useful in all kinds of situations and is more versatile than most of its competitors.
You can grab the entire page or select a portion of it, then add annotations before saving, printing or sending it straight to your Google Drive.
Download for: Firefox and Chrome.
2. LastPass
LastPass is a free password manager that keeps track of all your complicated, hard-to-remember website passwords. If you tend to use the same password for different accounts or currently write your passwords down, LastPass is a good way to be more secure and make your life easier.
Once you've installed the plugin, it'll remember passwords as you use different websites. LastPass is generally more secure than the password tools built in to browsers. And it has handy extra features, like a built-in password generator.
Download for: all major browsers.
3. Pocket
In a world full of distractions, Pocket will help you avoid going off-task to read an article or blog post. It puts an extra button in your web browser. If you're on an interesting page, press the button and it's saved for you to read later.
You can then sign in to your Pocket account at a convenient time to review and read everything you've saved. There's a mobile app, too, so you can catch up on your reading on the train or bus (or in bed).
Download for: all major browsers.
4. Adblock Plus
Ok, so here's the thing. Online advertising keeps most of the internet free. So if you care about your favourite websites staying in business, you might think that blocking online ads isn't really fair.
However, if you feel some online ads are too intrusive and underhand, Adblock Plus is the solution. Install it to enjoy an ad-free internet experience. (You can configure it to only block particularly obtrusive ads, if you like.)
Download for: all major browsers.
5. Check My Links
This one is a must if you run or manage a website. It scans all links on a given page to make sure they're working properly. You'll see broken links highlighted in red. It's a handy way to QA your site.
Check My Links identifies links that aren't working, of course. But if you're getting into detailed SEO work, it also shows you when links are being redirected or messed with in other ways that Google might not like.
Download for: Google Chrome.
6. Lazarus 3
Have you ever spent time completing an online form, only for a crash to destroy your efforts? Lazarus 3 saves forms as you type. If anything interrupts you — like a power cut or a website failure — your work is safe.
Lazarus 3 works with virtually every online form. If you need to reconstruct your data, you just go back to the form and select the special Lazarus icon that appears.
Download for: all major browsers.