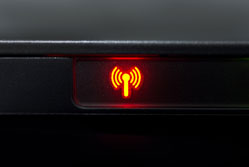 Recent research from networking firm Netgear suggests that most small companies consider workplace Wi-Fi critical for their business.
Of 500 companies surveyed, 75% said that having a wireless network has become essential for running their business.
Anecdotally, it's easy to judge the popularity of wireless networks. Just see how many pop up on your smart phone as you walk down your street.
If you already have a wireless network, you're bound to be familiar with its main uses. Being able to wirelessly connect to the internet or work on shared files can do wonders for your productivity.
But are you exploring all potential benefits of your Wi-Fi? Here are five ways to make your wireless network even more useful:
1. Give presentations wirelessly
Presentations run more smoothly when you don't have to faff about finding the right cable or digging out an adaptor to hook up your laptop to the company big-screen TV or projector.
You can use your existing wireless network to connect your laptop to a big screen, but you might need some extra equipment to do so.
If your projector or display doesn't have wireless capabilities, you can add a 'mirroring device' that will mirror your laptop's screen on your large display.
Good options include ChromeCast, the IOGEAR GWAVR (yes, that is its real name), and Apple TV (best for Mac users)
2. Set up a guest network
Visitors to your business will almost certainly appreciate the ability to connect to your company network. But rather than give them the password to your main wireless network, it's better to create a separate network for them to use.
This guest network can provide unfettered access to the internet, so your guests can log on as normal. But as it's separate from your other company systems, there's less danger of visitors being able to access confidential information (whether by accident or design).
Many wireless routers now offer a guest network option, so you can effectively run both a public and private network from the same piece of equipment.
3. Make calls over Wi-Fi
If your employees are in the habit of using their smart phones to make calls in the office, you could reduce calling costs by encouraging them to call via a VoIP app (like Skype), instead.
And if you already have a VoIP phone system, you might well be able to connect your smart phones to it over Wi-Fi. This means your staff will be able to make and receive calls from their main number while away from their desks.
4. Take Chip & PIN payments
Traditionally, getting ready to accept card payments has been quite a hassle. You needed to jump through hoops to get a merchant account - and then often had to pay a monthly fee to your provider.
That's changed in the last couple of years. A number of companies - like Intuit - have introduced Chip & PIN readers that connect to an app on your smart phone and then authorise payments via Wi-Fi.
You usually have to pay £50 - £100 for the card reader, plus transaction fees of 2% – 3%. This makes these solutions good for occasional users who don't want to pay a regular monthly charge or get locked in to a contract.
5. Print from smart phones and tablets
With mobile devices commonly used to review documents and emails, it's no surprise that people want to print from them.
While it's fair to say this is still trickier than it should be, it has got simpler. If your printer is connected to your network - either wirelessly or via a cable - there's a good chance you'll be able to print to it from your mobile device.
How you do this depends on the mobile device itself:
iPhones, iPads and other Apple devices use a system called AirPrint. See how to use AirPrint.
For Android phones and tablets, it's usually easiest to use Google Cloud Print. See how to get started.
BlackBerry doesn't provide a built-in printing solution for its handsets, but you can use a third-party tool like PrinterOn.
It's a similar story for Windows Phone devices. KumoPrint is a highly-regarded app that should get you started.
Do you use your wireless network in any unusual ways?