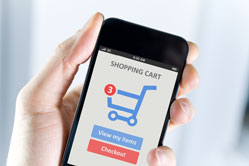 High street stalwart Argos now claims to be the first UK retailer to have generated £1bn of m-commerce revenue in a year
That's quite a milestone, even though UK m-commerce (mobile commerce) has been growing fast for some time. Some research suggests that UK shoppers will spend nearly £15bn via mobile devices in 2015. That will be a 77% increase on 2014's figure.
Indeed, the UK is the largest m-commerce market in Europe. And growth appears to be vastly outpacing traditional desktop channels, which are set to increase by just 2% over the same period.
If you've been keeping track of the explosion in tablet and smart phone use, this trend won't come as a complete surprise. Earlier this year, Google even changed its ranking algorithm to acknowledge the importance of mobile devices.
The Argos results demonstrate there's big money to be made from m-commerce. So, as consumers become more accustomed to spending money from their mobile devices, can smaller businesses take advantage, too?
Get your mobile basics right first
In 2015, you shouldn't do anything to your website without considering how it will look and function on mobile devices. That's because over 35m UK adults have a smart phone - and even last year, 57% of people were using their mobile handset to access the internet.
We've covered this topic at length before. Although you might want to consider creating a separate mobile app or mobile website, an increasingly popular option is to build a responsive website.
When a website is responsive, it adapts itself to the screen it's being displayed on. This means visitors can view and use your website properly, regardless of whether they're on a desktop computer, a tablet, or a smart phone.
As the number of different screen sizes available continues to grow (anyone fancy a phablet?), more businesses are realising that responsive design is the only reliable way to build a website that will work on any screen.
Optimising for m-commerce
Once you have a website that works properly on mobile devices, you can start to think about optimising it for m-commerce.
There are probably things you can do to make it easier for people to start or finish their purchases on mobile devices. For instance:
Even if your site looks good on a smart phone, you might find that it's harder for visitors to find the information they need. Do they have to scroll a long way to see product information? Are your photos clear enough on small screens, or should you add a zoom function?
Is it easy for visitors to check out and pay on a mobile device? Often, shopping basket functionality lags behind, particularly if you rely on a third-party payments system. Test it for yourself, and see if you can identify any failings.
Does your site let users move between desktop and mobile? The £1bn Argos figure covers any sales 'involving' a mobile device. This implies that perhaps visitors are saving items on their mobile devices to view in detail later from their main computers.
Make sure you test every aspect of your shopping and checkout process from your smart phone. Or, ideally, from a selection of mobile devices.
Should m-commerce be your top priority?
Although m-commerce in the UK is growing quickly, it doesn't necessarily follow that you should focus all your efforts upon it. Every website appeals to a different audience, and it may be that people using your site haven't yet bought in to the mobile way of doing things.
You should always make sure your website functions reasonably on smart phones and tablets. But before you do more, check your website statistics to see how many visitors actually use mobile devices.
If a significant proportion of visitors fall into this group - say over 20% - then it may be worth investing time and effort into optimising their experience. But if only a few visitors are using mobile devices, you might want to prioritise other improvements first.
Having said that, Argos has certainly demonstrated the potential of m-commerce in the UK. If you sell online, keep a close eye on how your mobile users behave. If you don't, you might just be missing an opportunity.