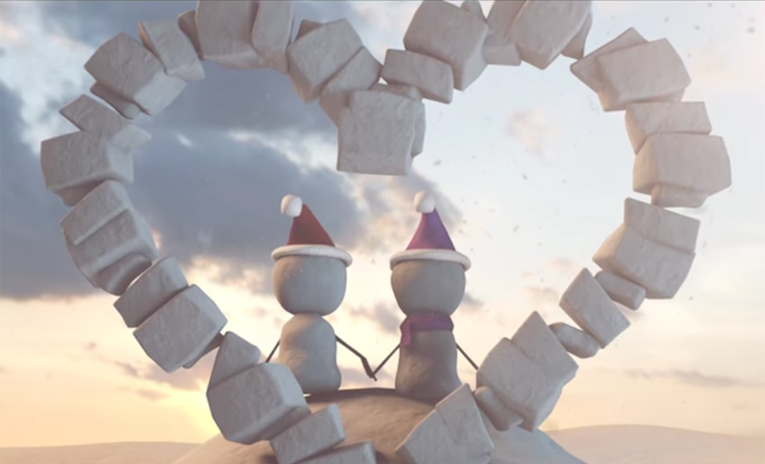 When Nick Jablonka uploaded his A-Level media coursework to YouTube, he probably didn't expect to fool millions of people and be offered a job as a result.
Watched by over 1.5 million people to date, the one minute, twenty-five second video tells the story of a snowman who falls in love from behind the confines of a snow globe. It has a happy ending, of course, but the skill with which Jablonka put the piece together caused a huge number of people to assume it was the new John Lewis Christmas advert.
PR company, W Communications, were so impressed that they even offered the student a job.
This brilliant video was devised, produced, edited and published by one person from the comfort of their own home. And, if Nick can do it, so can your business.
Here are four reasons every business can benefit from video marketing:
1. It's easier than you think to produce
The example we opened with features some very skilful animation work, but recording live footage, editing it and sharing the finished production on the web is something virtually anyone can do.
If you've got a modern smartphone, you can now record full HD footage (and probably edit it on the device, too). And, with platforms like YouTube featuring ready-made audiences, getting your masterpiece in front of countless eyes is also relatively straightforward.
All you need is a great idea.
2. It boosts conversion rates
According to studies, including video on the landing page of a website can increase conversion rates by 80%.
Clearly, video remains one of the 'stickiest' forms of content on the web, and, as the seismic growth of services like YouTube proves, people devour it. If you include video on your business website, you should see bounce rates drop and the average time on-site increase - it's that simple.
3. It increases trust
Content marketing is all about establishing a layer of trust between your business and its audience and there are few better ways to do this than with video.
Trust is the cornerstone of the sales process in the digital marketplace. With video, you can engage people for longer and elicit an emotional response far quicker than you can with text - a brilliant way to build trust.
The more people trust you, the more shares your video is likely to receive, and that really is the holy grail of content marketing.
4. Google is very fond of video
If you want to stay on the good side of Google, you need to head down the video route. The search giant loves video content and, while we'll never truly know how their search algorithms work, there's enough evidence to suggest that including video on a website boosts its chances of being found - significantly.
According to research, the presence of a video on your home page makes you fifty-three times more likely to appear on page one of Google.
Wrapping up
The benefits of video marketing are clear. And you simply don't have to be Steven Spielberg to produce a video that everyone will want to watch.
Video marketing will remain a powerful tool for businesses for many years to come. If you're not shooting footage already, get involved - it's one of the most exciting forms of promotion available.