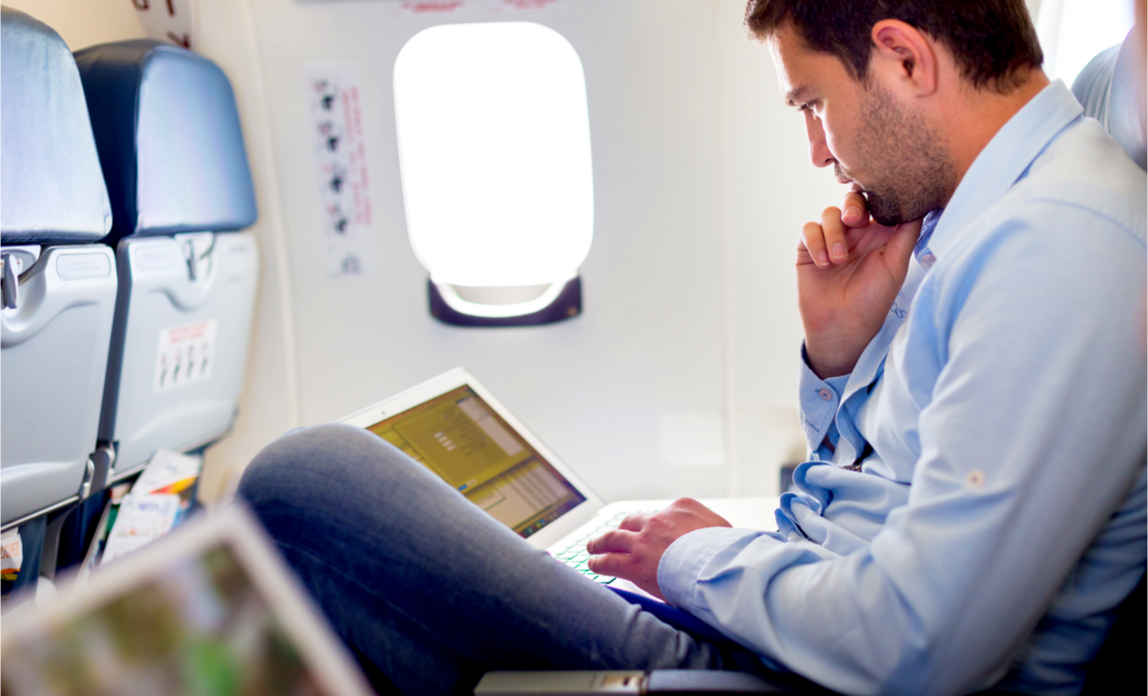 Whenever you travel, some tech accessories represent a great investment if you want to ensure you're prepared for the new location and can keep your items and data safe, with a back-up plans if things go wrong. This is especially true for business trips, as you're more than likely going to be taking expensive devices with you that hold important information.
When you've got your business trip booked, whether it's on a different continent or just a few hours away, be sure to consider these tech accessories.
Powering up on the go
From your phone to your laptop, when you travel you'll certainly be taking gadgets that require regular recharging.
While most people will remember to bring an adapter (or at least manage to grab one for an extortionate price at the airport), it's also a good idea to pick up an extension cable or power strip with surge protection. This way, you only need one adaptor to charge all your devices at once, while also protecting them if you're travelling in areas where the power supply may be unreliable.
But it's not enough to be able to charge your tech at the airport, in the meeting room, or the hotel room; as you'll likely be using your phone or tablet on the go for directions, entertainment and more, you should get a portable charger as well.
Grab yourself a power bank to guarantee that you have your phone at the ready whenever you need it. You can get slim power banks that are great for discreet and comfy carrying or chunkier models that can store a lot more power.
Have a back-up plan
Our devices have become crucial to our everyday lives, especially when it comes to work. Laptops, tablets, and mobile phones are key to business, but they are incredibly delicate.
Whether you're travelling by plane, bus, or train, there are bound to be moments when your luggage containing important devices will be kicked, bumped, bashed, dropped, or have another bag stacked on top of it. The troubles don't end there, either: rain, theft, or simple clumsiness can happen at any time during your travels.
So, while it's important to take precautions to keep your tech safe, it's also important to have a back-up plan in case the device needs expensive repairs or replacing. The most commonly lost, broken, or stolen device is possibly the most important, the smartphone. As many of us are on a phone contract, we forget how expensive it can be to buy new hardware upfront.
It's always best to secure additional protection for your mobile phone before you travel by insuring your device.
Access entertainment from home
When going on a business trip abroad, you will almost certainly have some downtime, be it before turning in for the night or while preparing for a meeting in the morning.
Most hotel rooms come with a television, but unless you speak the local language, English-speaking businesspeople are often restricted to BBC World News. Due to geographical restrictions put in place by most online entertainment providers, you can't even stream your favourite shows or movies - unless you install a VPN.
A VPN is a virtual private network that allows you to go online and appear as though you are in a different country. Using a VPN gives you access to streaming platforms, allows you to bypass geographical restrictions, and provides some extra online protection.
The VPN effectively works as a tunnel which protects your data while you're on an untrustworthy public Wi-Fi hotspot.
Guard your tech from theft
Some of the most beautiful cities in the world have awful pickpocketing and theft records. Barcelona, Prague, Rome, Paris, Amsterdam, and Hanoi are among the most notorious for street thieves.
On a business trip, you'll almost certainly be carrying your laptop and phone with you en route, so it's important that you're capable of defending your tech against even the craftiest of thieves.
The need to stave off increasingly savvy criminals has given rise to anti-theft backpacks. Some come with some truly revolutionary features like a slash guard, anchor locks, transmission-obstructing fabric and smart zippers - but an additional important feature to look out for is waterproofing. Besting would-be thieves is one thing, but if your equipment gets ruined by a quick shower, the bag hasn't done its job.
Before you embark on your next business trip, be sure to prepare yourself by getting an adaptor, surge-proof extension cable, power bank, insurance for your most important tech, a VPN, and an anti-theft backpack that can also protect against the elements.
Copyright © 2019 Article was written by Stephen Gate