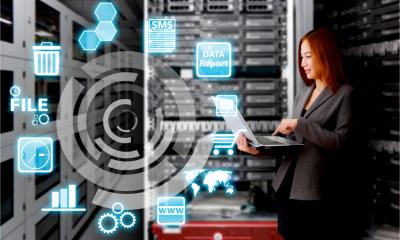 Today, thanks to the internet, individuals and companies can achieve global visibility by creating a website that, thanks to web hosting companies, will be available online everywhere in the world.
These companies provide a hosting service by enabling physical space on the website hosting server. They can provide this service for free, or they can charge for it. If you have a blog or a low-traffic website, you can get this service for free.
The larger the size of your website, and the more services you need, the higher the cost of hosting.
What is offshore hosting?
Offshore hosting is defined as any web hosting with a data storage centre location that's in a different country to the home location of your website (as opposed to onshore hosting where the hosting company is in the same country as your website). The advantage of this usually relates to legal obligations surrounding data security, intellectual property, copyright and tax.
Offshore hosting companies, whose data centres are located outside of the UK, may serve businesses or may specialize in pirated software, torrents or MP3 sharing. Hosting costs depend on the features and the location of the server, as well exchange rates.
Businesses often opt for offshore hosting due to target audience availability, reduced tax liabilities, anonymity, data privacy, security, and support from local authorities, which is why offshore hosting (outside the country of origin) is not free, and can even be more expensive than onshore hosting.
So, before using this type of hosting you should get to know all the advantages and disadvantages. It is worth talking to and taking advice from experts who are familiar with this topic or the persons who can explain the features of offshore hosting.
You can also use the internet to find out more information about offshore hosting but we will explain its features and benefits here.
UK uses for offshore hosting
MySQL hosting
MySQL has become the top relational database management system (RDBMS). As a free and open-source RDBMS, MySQL powers many of the world's dynamic web applications and is included in most hosting plans (those who can fulfil your needs are listed here). In fact, dynamic web apps won't be able to operate without MySQL and web hosting based on this database.
MySQL hosting providers offer businesses and individual website owners in the UK the ability to easily access their data and make changes to the database. They allow for: a scalable MySQL database to meet changing market demands; stable and secure versions of MySQL & PHP; cPanel through which setting up email addresses and managing MySQL databases becomes a routine process; no-downtime server updates; and above 99.9% uptime.
DMCA-ignored hosting
Offshore hosting companies advertise their services to clients in the UK primarily by seeking customers who require contracts that ignore the European E-Commerce Directive,which protects intellectual property in the United Kingdom. This regulation resembles the more famous US copyright law, the Digital Millennium Copyright Act, or DMCA.
While DMCA Takedown Notice in the US provides a mechanism for copyright holders to request the host to remove material that is infringing their copyright, the DMCA Takedown process in the United Kingdom doesn't require you to have a registered copyright, only to provide substantial evidence of ownership of the intellectual property in question.
DMCA-ignored hosting service providers offer a clause in the Terms of Service which means that the web hosts won't automatically terminate or suspend a website if a takedown notice is issued under the DMCA or European E-Commerce Directive. In this way, web hosts guarantee clients from the UK that their content will remain online. Some web projects in the UK simply wouldn't be able to function without being placed on hosting that will ignore reports for copyright violations.
Many felt that copyright law needed to be updated to reflect business needs in this increasingly digital age. The European Pirate Party (PPEU) won seats in the European Union on the platform for negotiating international copyright and intellectual property law and numerous copyright standards were revised and applied to hosting centres as a result.
Why choose offshore hosting?
The benefits of offshore web hosting can be summed up as follows.
Cost-effectiveness
Despite the higher hosting fees mentioned above, there are many reasons why choosing offshore hosting can save you money overall. Some countries have more motivational tax policies than others. Of course, you'll need to carefully consider where you choose to locate your website, but usually offshore web hosts will provide you with tax reliefs.
What's more, offshore web hosting companies located in the rest of Europe often charge less for their services and space on their servers than those in the UK. In Europe, they often won't charge additional costs if you are picky when it comes to the customization of hardware configuration, because their selection of hardware is huge.
Offshore hosting may also be more cost-effective for some businesses in the UK when it comes to developing international storage centres.
Security
Security threats for a website are all around us, whether it's hacking attacks, phishing or DDoS attacks. Offshore web hosts will keep your website and your account secure at all times. They perform around-the-clock internal audits to ensure the security of your site, collect the minimum amount of data on clients, and encrypt data before they store it.
Offshore web hosts protect their servers with a high-tech DDoS protection system and allow you to create an account anonymously.
Privacy protection and anonymity
The anonymity that offshore hosting providers offer doesn't only apply to data, which they keep safe from invasion and treat them as confidential. Offshore hosting providers also prevent identity theft by providing several levels of identity protection.
Offshore hosting providers will also protect your website, and by that we mean the content you publish, from a ban that might come from some government, company or individual, who find it illegitimate, with or without probable cause.
So, if you want to successfully do business abroad, choose a reliable offshore hosting company that will provide you with quality service and technical support whenever you need it and who will take care of the security of your website.
Copyright 2020. Post made possible by Mahendra Bajiya