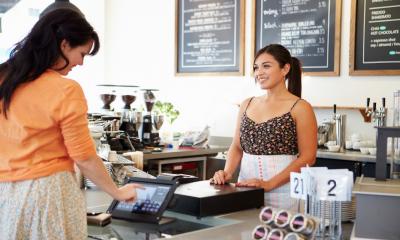 The journey of running a business is full of twists and turns. Give yourself a break by finding an ePOS system or smart register that will take care of the business management portion of your business, so you can focus on scaling to the next level.
There are systems out there that do almost everything for you, from inventory to marketing, and some can be set up in a matter of minutes.
If you are used to doing everything yourself, letting go of some of the control may feel like seeing your child off to their first day of school. Once you set everything up just how you want it, though, you will never look back.
Essential features of an ePOS system
Intuitive and easy to use
Maybe you already have a system and you are looking to upgrade. Or maybe your business is just now ready for its first ePOS system. Either way, you do not want to spend hours learning how to use something that was supposed to make things easier.
You need an ePOS system that you can turn on and have running in no time, so your business can keep moving forward.
Real-time inventory management
In retail and food, keeping on top of your inventory is make or break for your business. Knowing what you've got, where it is, and how much is left from moment to moment is vital.
With the right ePOS system, you can stop running to the stock room on busy days just to confirm what you have. Instead, you can pull it up right from the floor… or from wherever you are in the world.
Doing your end of the month stock-takes will be a breeze, too, with items organised just how you want them and no double entry.
Automated stock ordering
When you started your business, you dreamed of doing what you love: running your business. Most people never think about the tedium and dedication it requires to keep everything balanced so your business runs smoothly and profitably.
Forgetting to order stock at the right time can mean you don't have what your customers are looking for. Conversely, having too much stock on hand can lead to a major loss of revenue. With an integrated ePOS system, you will get control over your inventory through automated reminders, and even automated ordering.
Employee management
You may appreciate all the hard work your employees dedicate to keeping your business running day-to-day, but it would be nice to keep things more organised. Having an ePOS system that integrates with your employee management software solves everything.
Your employees can swipe in and out right from the system, you can share tasks and other messages, they can manage their leave requests, and you can organise their schedule and track performance, all from one place: wherever you are.
Integrated accounting
You like to make the money, but managing it may not be your bag. Instead of struggling because everything is in multiple places, and entering things by hand - sometimes more than once - connect your ePOS system with your accounting software.
Not all ePOS systems have integrative software that simplifies purchase tracking, payroll, invoicing, receipts, and taxes, but finding one that does will keep your money organised so you can focus on making more of it.
Marketing management
Strong reporting tools and a database full of customer information gives you a powerful tool to target all your marketing and make sure your customers feel appreciated.
Manage loyalty schemes, acknowledge special occasions like birthdays and anniversaries, and target sales like never before, when you have an ePOS system that integrates with marketing software. Some programs even make use of live humans to advise your strategy and help boost your sales to the next level.
Best ePOS systems for your business
1. Vend UK
Vend UK uses your favourite top software to pull everything together and make running your business a joy. Vend UK integrates with all the software you need (and may already use) in order to create a powerful business management tool.
Set-up is a snap, and once you are up and running, everything is done automatically in real-time. When you are ready to scale your business, Vend UK will be right there with you, helping you grow and growing with you.
2. EPOS Now
EPOS Now is a worldwide POS provider, and their software can be used on any hardware system you already have, or you can purchase a system tailored for your specific type of business. EPOS Now offers systems designed for retail, hospitality, hotel, and restaurant businesses.
They provide their own software with their systems, which makes integration easier for them, but transferring more challenging for you. Otherwise, this is an excellent choice for businesses looking to make the time and space to grow.
3. Square
Square is a sleek new system that is flexible enough to work on whatever hardware you already have, or on gadgets custom-made for your business's needs.
They offer software that works like a charm on its own or integrates with a long list of popular apps for some of the most modern business management tools in the industry.
4. Lightspeed
Lightspeed is a popular system in the UK, and it offers excellent inventory management and customer support - as long as you use their hardware. You can use what you already have, but you will not get support for it, so everything about your business has to be built around the Lightspeed system.
The software is pretty comprehensive, however, so as long as you are happy with their products, this should be a full-service company that meets your business' needs.
Copyright 2020. Sponsored post from Gary Wilkinson of Link Kings Agency.