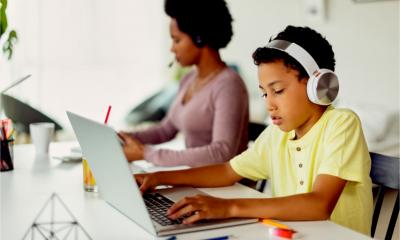 The COVID-19 pandemic has undoubtedly defined 2020. Its impact is likely to remain with us long after the cases subside thanks to the economic hit that has come hand in hand with a widespread public health crisis.
While this has posed challenges, it'd be wrong to focus solely on these when considering the impact on the tech sector. A deeper analysis shows tech reacting to this crisis just as it does to any other challenge – adapting, evolving and innovating to move with the times and fit demand.
Before we look at that, let's deal with those challenges. They are, in simple terms – falling consumer spending, unemployment and disruption to supply chains and manufacturing. An inability to make products (or greater difficulty in doing so), a freeze on hires and squeeze on the workforce and a lack of cash and confidence among the people you're selling them to is never positive. It has also choked investment in start ups.
This economic gloom isn't just occurring in the UK either. Global GDP is estimated to drop by more than 5%. That can't be good news in a sector where many UK firms have global ambitions.
It's important, however, to consider what happened to the population as a whole and tech's role in rising to the challenge. With millions of workers forced to work from home, children and students accessing remote learning and the population stuck indoors due to lockdowns, technology was needed more than ever. Technology took on a greater emphasis in our work, rest and play.
The exponential rise of video conferencing, for example, caused something of a 'Zoom boom'. It's also been a great time for project management software, e-learning portals and VPN providers to prove their worth too by helping to keep businesses running smoothly. That didn't just earn lots of money for the people behind this software, it also helped to establish video call technology, in particular, as being a regular and trustworthy part of the mix.
Companies who were reluctant to embrace video conferencing have had to out of necessity – and wider consumers have also used the same tech to keep in touch with friends and family. Two thirds of people using video call apps had never done so before the pandemic – developing habits that are likely to stick around for many in the years to come.
Technology has kept us working, shopping and banking and has also kept us in touch with our loved ones at an extremely stressful time. Remote working arrangements and video calls were already on the rise. The crisis has fast-forwarded this change in behaviour and has entrenched our reliance on broadband and smartphones. In general, Brits have become more favourable to tech as a result of the pandemic.
Tech has also helped to substitute our real-world experiences, covering everything from virtual concerts, museum tours and online talks through to parties held via games such as Fortnite. And speaking of gaming, consider the way Switch title Animal Crossing: New Horizons captured the mood and offered some fun and friendly escapism – selling a lot of copies as a result. With other forms of entertainment on ice, gaming has seized an opportunity to keep our spirits up.
The crisis has also forced the pace with new innovations too. Seth Ward, co-founder of fintech firm Pynk told Business Insider: "It's easy to suspect it could slow down innovation, but I think the opposite may be true. Necessity is its mother, after all. I can see progress being made in areas that will facilitate, simplify and empower our societal move towards a post-COVID reality. 'Lights out' manufacturing, automation of supply chains and streamlining of delivery processes; smart IoT technology to empower us all to work together whilst we are apart."
So, yes, COVID-19 has made life harder for the tech sector. But, it's also caused tech to play an even more central role to our lives – and that has provided opportunities for software and hardware providers to establish themselves and their products.
Copyright © 2020 Article was made possible by site supporter Rachael Matthews