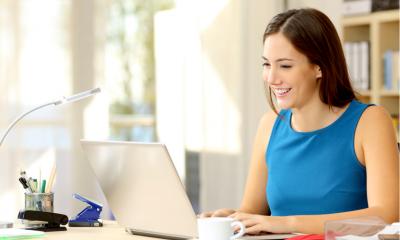 If you regularly work from home, or the coronavirus pandemic is making you seriously consider working from home on a more permanent basis, then one of the best things you can do to improve your at-home business is to consider renovating your property.
This might sound incredibly expensive if you really only need a laptop to get your job done. However, there are many reasons why you might want to renovate your property if you're serious about committing to your at-home business.
So, we're going to discuss three of the biggest reasons why a renovation could be the best thing to happen to your at-home business.
Avoid distractions with a home office
One of the best things about working from home is that you're in a familiar, comfortable environment. However, this can be a double-edged sword. As thousands of home workers who are also juggling home schooling can attest, it means you can easily be distracted by random things like postal deliveries, phone calls and visits from friends and family.
It takes a while to get used to working from home. One of the best ways to avoid those distractions is to have your own office. When you first start working from home, it might be perfectly possible to work perched on the kitchen table. But the longer you work from home, the more likely it is that you will accumulate paperwork, files, stock, postal materials, and devices such as printers, phones. It soon becomes apparent that the need for a dedicated workspace is pressing.
This is where a specialist contractor such as Scenario Architecture comes in handy. By investing in a home office and creating a completely new room, it'll help to give your business a feel of legitimacy. It can help you focus, away from the daily hubbub and help motivate you and help you work harder. You can keep all your business-related files, equipment, hardware, and other related items in the same room - leaving the kitchen, dining room or spare bedroom for the purposes it was originally intended.
Benefit from dedicated storage
While most at-home businesses are entirely online, some involve selling and dispatching products direct to customers. As the business and turnover grows, you will need more stock on hand, quickly spilling out into other areas of the home. Other businesses might require specialist or heavy machinery. For example, if you're printing shirts, you'll need storage for the blank shirts and also space for a heat press or silkscreens for your different designs.
Of course, all this will depend on the type of business you're running. If your business is entirely digital, you won't have the need to masses of storage space and this might not concern you. However, if you need a lot of storage space for products, or you want a separate space that will allow you to keep your business and private lives separate, it can help you stay organised if you renovate a part of your house and turn it into a home office or storage space.
Renovating for technical reasons
There are some situations that might mean you need to renovate parts of your home for technical purposes. A great example of this is fibre internet installations. Whether you're looking to upgrade your existing internet or install a completely separate line, bringing a new cable to your home will involve some renovation. You might need to dig out paths around your house to ensure that the cables can reach your home.
Your internet service provider will contact you if this is the case. It might even cost more to install a new internet connection. However, it's a necessity for some businesses that you can't avoid.
If you rely on Wi-Fi, the design and structure of your home can mean that the signal is weak or insufficient. You may need to install additional hubs to boost the signal or install a wired connection to different parts of the building to get a reliable signal.
Older buildings were not designed for all the electronic devices we use these days. Adding a home office into the mix can mean your fuse board or wiring can't cope. You may need to renovate and rewire to increase the capacity and number of sockets you have.
In summary
There are many benefits to working from home, but it is not without its pitfalls. To create a truly productive work environment, you may need to consider renovating your home to accommodate your business as well as your family life.
Copyright 2021. This article was made possible by site supporter Jeremy Bowler.