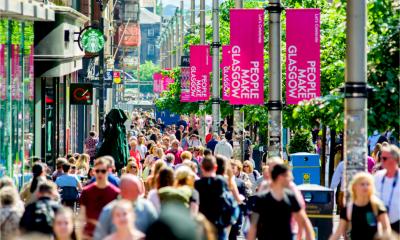 As we continue to navigate the COVID-19 lockdown and associated economic situation, businesses across Scotland are looking to increase their online presence. To improve their resilience and find new opportunities in the wake of the Coronavirus pandemic, they have turned to SEO agencies in Glasgow for answers.
Businesses in Glasgow turn to SEO to regain strength
The COVID-19 outbreak and ensuing lockdowns have highlighted the importance of rethinking business infrastructure. It has encouraged firms of all sizes to become more digitally agile. A good example of this sentiment is how opposed to remote working most companies were until the world went into quarantine, practically forcing them to give it a try.
Similarly, businesses in Glasgow have undergone a major shift to bring their activities to the online world. Eskimoz Agency - one of the top SEO agencies in Glasgow - has been working with businesses to help them build a new audience by applying cutting-edge search engine optimisation techniques.
In a world where an ever-increasing number of interactions happen online, many have repositioned their brand by embracing the social media culture and providing a bespoke experience for their customers. For larger entities that already benefitted from excellent exposure, it was a simple matter of adapting their approach and brand narrative. For SMEs, however, the role of SEO has become more prominent.
Strongly impacted by the pandemic itself, businesses in Glasgow have been reluctant to allocate a substantial budget to marketing - even though they are fully aware that a relevant, targeted digital presence generates the best conversion. This is where local SEO agencies come in. They can help small businesses identify their niche so they can dedicate resources only to the most promising avenues.
Thanks to a streamlined approach which offers a high ROI, smaller firms can harness the potential of digitisation and build a qualified audience through a careful selection of keywords. This means time and effort is not wasted on generic marketing campaigns. A perfectly optimised website can climb Google's search results, giving it unmatched exposure.
SEO in Glasgow - market opportunities across Europe
Right up until the first lockdown, Scottish businesses would often get excellent results from traditional marketing including print media. This was especially true of those small firms that targeted a hyperlocal market. With the brutal change in dynamic brought about by the pandemic, however, many customers shifted their attention to alternatives that they could access from their laptop, tablet, or smartphone. This does not mean that they are no longer loyal to local Scottish businesses, but simply that the latter are not leveraging this vital market.
SEO agencies in Glasgow are tearing down the myth that website optimisation is only relevant to those who wish to reach a global - or at least a European - client base. A survey carried out by the Scottish Government in 2018 revealed that home internet access had achieved an all-time high of 87% of households, proving just how prevalent web use has become. SEO in Glasgow is just as important as it is anywhere else in the world.
Getting started in ecommerce is only the first step towards taking full advantage of this business model and compensating for declining physical sales. However, having a website - even the most compelling one - is not sufficient for businesses to get noticed. SEO experts can help Scottish businesses reclaim their local market and give them the power to pursue entirely new sales channels. By making them visible to a qualified audience, they allow them to truly make the most out of their online presence. By diversifying quickly, small businesses exploit new opportunities and build long-lasting resilience.
Copyright 2021. Guest article edited by the Donut Blog Team