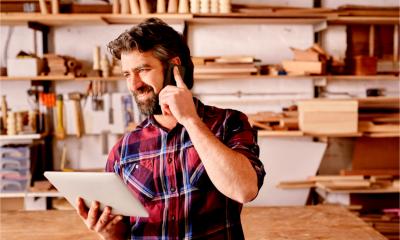 Technology has become an integral part of any business these days. Whether you're looking to establish a small home-based business or launch a restaurant, technology will be at the core of your operation. It will help you make informed decisions and define a lot of the strengths of your company.
However, technology can often be used incorrectly, inefficiently, and even misused in some cases. Technology is so powerful that a lot of the hardware and software we use to run our companies can serve multiple purposes, hence why it's important to consider how we use it.
In this post, we'll be taking a look at some of the most important factors to consider when looking at technology in your business to ensure it's being used correctly.
Technology can be easy to use, but are your staff trained in its use?
One of the most important factors when it comes to using technology in your business is whether your staff are trained to use it correctly. There are many situations where staff feel underprepared when they need to use the different features of their technology, and it can lead to inefficiencies. Occasionally, staff can even cause system errors because they weren't properly trained in how to use the business software or weren't told about the safety considerations when using a particular machine.
In situations like this, it's extremely important to invest in staff training to ensure they know how to use the technology and what to do if something goes wrong.
Ensuring your technology spend isn't going to waste
The key to introducing cost-effective solutions to your business is weighing up the pros and cons and considering how much time it actually saves you. There are many times where a business may invest in a form of technology such as a machine or piece of software because they know it's an industry standard. While that might give it a stamp of approval, the reality is that it's not guaranteed to work in their circumstances, especially if they're a small business.
With that said, make sure you weigh up the pros and cons of the technology you're using business. If you don't, there's a good chance that you'll end up spending more on technology that you're not utilising fully.
The cost of technology blunders
When technology is used incorrectly, it can lead to extremely expensive mistakes. The cost of technology failures in businesses across the nation is extremely high. Many of these failures are caused by human error and not a system failure. Though both are prone to happen, it's vital that you secure your business against these failures by training your staff, hiring specialists to maintain the systems, and making sure they are fit for the purpose they will be put to in your business.
You don't want to be on the receiving end of a large bill due to a technological blunder, so make sure you maintain your systems correctly.
Technology should enable you to work more efficiently
At the end of the day, technology should enable you to work more efficiently. The goal of technology is to enable efficient business processes that help you save time, money, and a lot of effort. Technology can be used to automate repetitive tasks, augment staff's skills, and enable unique business models and product development opportunities that wouldn't be possible previously.
If your technology investment doesn't have the end goal of enabling you to work more efficiently, then you should ask yourself whether it's a worthwhile investment.
Leave it up to the experts
Lastly, it's a good idea to rely on the experts when possible. You're better off paying a specialist to help you install, maintain, and repair different kinds of hardware and software issues instead of doing it yourself. If you try to repair something like a network router, then you could mess with the settings and cause even further damage. The quickest and simplest solution is to hire an expert.
This also counts for technology-related tasks. For example, you can invest in productivity software to establish a brand and create a unique image for your company. However, in addition to the software, you will need to hire a designer, and it can be a time-consuming process. Instead, you could just hire a digital marketing agency to help you out. This is a much simpler process because you don't need to purchase extra hardware and hire another member of staff, and it gives you the same results.
Use technology to bridge the growth gap
Technology should also be used to bridge the gap between a start up and a large company. The key to this is investing in scalable technology solutions, such as cloud-based systems that allow you to pay more for a better service once you actually need it. A great example of this is a cloud backup system. Basic backups are inexpensive, but the amount of space you have available is relatively small. By upgrading your cloud storage solution, you'll have a lot more space to work with and it'll enable you to backup larger sets of data and create more restore points.
Technology is a powerful tool to help you grow your business, but if it's not used correctly then it can seem like a wasted opportunity. Take full advantage of scalable technology solutions that enable you to invest in a more expensive solution when the time comes.
Copyright 2021. This article was made possible by Jeremy Bowler.