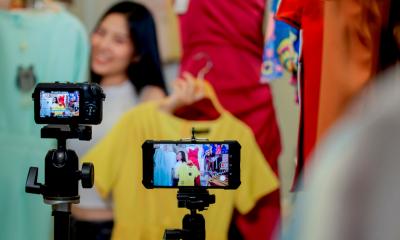 Living shopping (or live streaming as it's often referred to) has become the new way of selling online. There are more people online than ever before and customers' expectations relating to customer service and experience are growing.
It's probably why live shopping has become a more popular way of selling to customers. However, not everyone understands what live shopping is and how to utilise it to their advantage. With many benefits to this method of selling online, we've put together a helpful guide on how to use live shopping for your business this year.
What is live shopping/live streaming?
Live shopping is often referred to as ecommerce live streaming and it is growing in popularity thanks to China. Imagine it as something similar to the QVC shopping channel where they demonstrate product after product, encouraging their viewers to buy.
The benefit of live shopping is that it gives customers a detailed insight into how a product works. Unlike a photo, you can do a lot more and show off a lot more with these live streaming opportunities.
Live shopping exists on multiple platforms nowadays and many of the social media platforms like YouTube and Instagram have introduced live streaming functions. There are also lots of tools and software that have been created to help provide more live shopping opportunities. 
Whisbi's live shopping platform, for example, helps engage with your customers in real-time. It can also help increase sales for smaller businesses and brands that are just starting out in their industry too.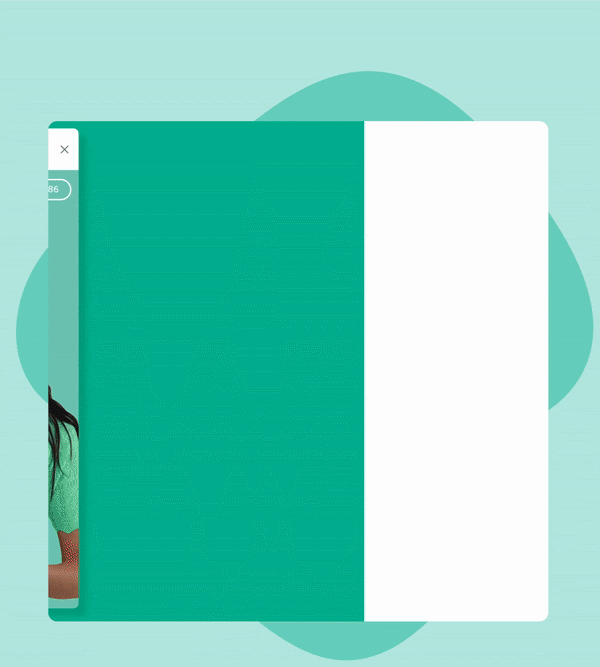 Still not convinced it's right for your business? Well, according to Coresight, live shopping generated $60 billion in global sales in 2019 alone. The market is certainly there and for any retailers, existing online is critical to future success as physical stores continue to close down.
COVID-19 has also contributed to the success of live shopping, especially with so many people having to work from home as a result of the pandemic. Live shopping helps to somewhat replicate the experience they get in-store.
How is live shopping done online and what platforms are used?
There are many platforms that offer live shopping, including social media platforms like Instagram, TikTok, Facebook and YouTube. However, there are also dedicated sites that were set up to offer live shopping.
Amazon recently rolled out its version of a streaming service to promote its lifestyle, fitness and cooking programs. Google also hopped on board with its Shoploop, offering shoppable stories.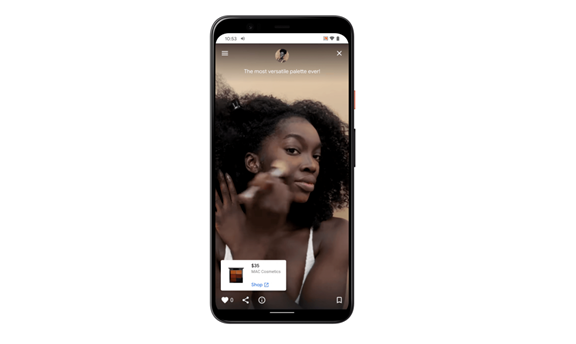 Instagram is by far the biggest contributor to live shopping. Instagram Live Shopping is available to American-based brands and creators that have business accounts. There are a number of ways that customers can engage with these accounts:
Product demos - Live streaming content that is focused on showing off the product that's being sold. These product demos help to highlight the product's features but also to answer any queries that the customers watching may have before buying.
Collaboration - This is typically where creators or other brands will be involved in a live streaming video to help pull in more viewers and to give the products more authenticity and value.
Customer interactions - Any potential buyers or customers can be invited to certain live streams in order to buy something they're already interested in purchasing. They can also participate and get a better shopping experience overall.
The main reason why live shopping has become so popular is that it's more accessible for those customers who may not be near a physical store. A recent survey conducted by McKinsey Digital found that consumer demand is building with almost a quarter of adults wanting to discover new products via livestream.
The benefits of selling online with live shopping
A report by Quin An, found that 265 million Chinese internet users bought goods via live streams in 2020. It's a method of selling that's clearly benefiting many businesses whilst providing immersive experiences for its customers. So, what are the benefits of using live shopping for selling online?
It improves the customer's buying experience
Customer experience is critical to their impression of the brands and businesses they buy from. It may influence how likely they are to return for additional purchases. The more you can improve the customer buying experience, the better.
With ecommerce live streaming, it's a more immersive experience that customers can actively involve themselves in. Whether customers simply want to watch the stream, join the stream, or submit a question, it all contributes to their experience and their purchase decision-making.
Keeps your customers on your site or page for longer
It takes around 0.05 seconds for a user to form an opinion about your website. That's likely to be similar for any other interactions a customer has with your business. This means you don't have long to capture your audience's attention. With live streaming however, there's something captivating about video content giving you the opportunity to keep them engaged for longer.
This is great news for your social media platforms because the more engaged your audience are, the more likely it is those platforms will push your profile or site in front of similar consumers that may be on the lookout for what you're selling.
Increases average spend amount per purchase
The amount of spend per purchase is likely to increase when using live streaming for shopping. This is because you may be upselling other related products along with what customers are considering buying.
With a lot of live shopping events, they'll sell multiple products at the same time, so it's a great opportunity for your customers to spend that extra bit of money each time they shop with you. 
Attracts new consumers to your brand
With live shopping, it opens up your business to a wider demographic and you may attract new consumers as a result. Video content in general, tends to be engaging to most people and so even those who are in your target audience, may be interested in what you're selling.
The more traffic and attention you can bring to your live streaming ecommerce platforms, the more influence it provides for your business as a whole. Whilst it's good for boosting sales, generating a bigger following is something that will benefit you in the long-term.
Google sees it as a positive influence for your search position
Any platforms or sites where you perform well will boost how Google views you when it comes to your search position. Live streaming is a great way to help boost your pages ranking and ultimately generate more traffic for your business.
Anything that you can do to drive attention to your platforms, or your website is beneficial and it's why live streaming is a great advertising tool for any business.
Tools and software to help with live streaming
With live streaming becoming more popular, there's a growing number of tools and software on the market. To help you get set up properly for success, here are some commonly used tools or software for ecommerce live streaming.
Restream
Restream is a great tool for streaming because it brings together many of your social media platforms. So, if you decide to do your live shopping stream on YouTube, you can also connect it to your Facebook Live, Twitch and many more.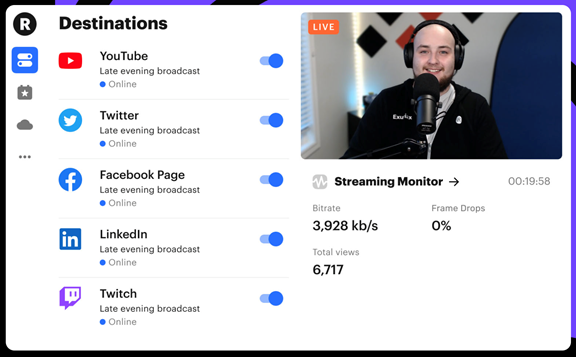 The handy scheduler helps you stream your recorded videos live. You can read and reply to any messages from multiple streaming platforms on one screen, making it easier to connect with your customers. There's a free plan with watermark but paid plans to remove the watermark start at $16 per month.
Vimeo
Vimeo is a great one for creating unlimited live events, streaming, and simulcast to any of your social media platforms. It incorporates studio encoding software, live graphics, audience chat and live Q&A features. Live streaming is available in Vimeo's Premium plan which costs $75 per month.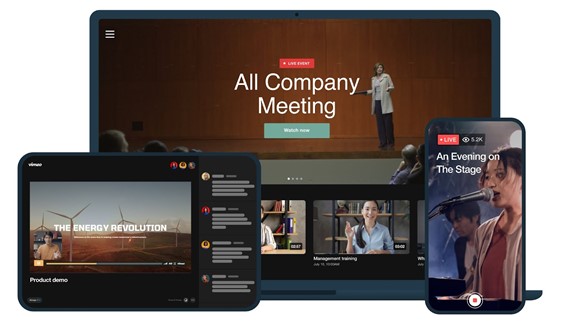 We've already mentioned platforms like Instagram, Facebook, YouTube and TikTok as being a great way to connect with your followers using their live streaming services. The biggest benefit from these tools is that they're completely free to use. So, even if you're a small business with a limited budget, you've got influential platforms that you can stream on for free.
Living shopping is the new way to sell online
There's no denying that live shopping is the way forward. As we head into 2022, you need to prioritise ecommerce live streaming as a route to market. Find the platforms that help you reach your customers and make use of what is a big money-maker for many businesses across the globe already.
Copyright 2021. Article made possible by Natalie Redman for SKALE.