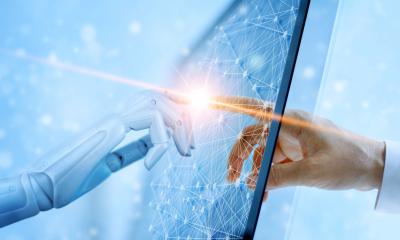 In virtually every developed country, the supermarket industry is huge. Take for example the UK. According to the industry research experts, Ibis World, the supermarket sector is the highest-ranked in the Wholesale and Retail Trade industry in terms of market size. Its market size grew by 6.6% in 2021. During that year, £204.6bn in revenue was generated by supermarkets.
There is so much money at stake that supermarkets are often at the forefront when it comes to technology. Not only are they early adopters, they are also powerful innovators. Many of the supply chain norms that led to 'just in time' were developed first by supermarkets, and they are still leading the way.
Here are just a few examples of how they are using new tech to push the boundaries, streamlining operations, serving their customers better and improving profit margins.
Customer behaviour analysis
For many years, supermarket managers have watched CCTV footage to analyse the flow of customers through their stores. This was especially true in branches where footfall was so heavy that at times customers had difficulty moving freely. Based on what they saw, managers moved displays, even whole aisles to improve flow and changed the shifts of cashiers and customer service personnel to better serve their customers.
Heatmaps and flow analysis
Most of the large supermarket chains conduct this type of analysis in every branch. They take CCTV and feed it into AI and ML systems that crunch the numbers and produce footfall heatmaps that do far more than highlight pinch points. They also look at dwell time and body language to work out which promotions, display types and other elements customers take the most interest in.
Many firms have incorporated sensor triggered counters into the mix. So, they know how many people are in the store at any point in time. This helps them understand when to open more tills, put more people on customer services, even time a bread bake to maximise the positive impact the aroma has on customers.
Finding new ways to use digital signage
In a climate where it is hard to recruit and retain enough people, supermarkets are constantly looking for ways to help staff to work more efficiently. Sometimes that means adopting brand new technology. But often it means repurposing existing equipment.
For some time digital signage for supermarkets has been the norm - certainly in the chains and larger independents. Until recently, their main task was to show ads and share basic information. Now, screens are being used far more extensively and differently.
Digital signs played a key role in reminding shoppers and staff of COVID guidance and restrictions. As a result, many more stores have them than they did pre-epidemic. As restrictions ease, some of these are being redeployed to display poster-style ads or play short demos that showcase some of the latest products.
Changing display ads to target specific shoppers
These ads are increasingly being changed from a central backroom point to show ads that target the types of customers that are in store at various times of the day. They are also being increasingly used to advertise the items that people most commonly buy on impulse.
To automate returns
Many stores are now using digital screens to automate some customer service desk tasks. For example, stores that sell clothing and other items online often provide the opportunity to pop into a store to return goods. Customers who are at work all day cannot wait for a courier to arrive to pick it up and many cannot get to the Post Office during opening hours. But most can pop into a branch near their work to return the item. So, it is a popular service, which has led to long queues.

In some supermarkets, returns kiosks and lockers are now available. Typically, clients' interface with a touch screen to complete the transaction. Some stores also allow customers to use screens to see if a chatbot can solve their problems.
To automate supply chain tasks
Robots have been a feature of assembly lines for some time. They are now entering the world of grocery fulfilment. Autonomous shopping carts pick grocery items which are them checked and packed by human associates. We have already seen self-service grocery stores where shoppers "grab and go" by scanning items with a handheld device or an app on their phone. When shoppers leave the shop, their account is charged.
If you would like to learn more about how supermarkets are automating their warehousing, distribution and many backroom operations, you can do so here.
To streamline stock control tasks
One of the most time-consuming tasks is stock control. Shoplifting, breakages, and data input errors, combined with the fact most now run 'just in time' supply models, means shops have to keep a constant track of stock. There is now a robot that can do that task, in certain areas of a store.
It's likely that many supermarkets will adopt the technology behind Amazon's automated 'Grab and Go' stores. When someone adds or takes something from a shelf, that is logged by the system, so inventory is managed in real time.
When it comes to supermarket tech, this is just the beginning. There's little doubt that the day when a supermarket can be stocked and run with hardly any staff is not far off.
Copyright 2021. Article was made possible by site supporter Simon Croft at The Independent Writing Co.