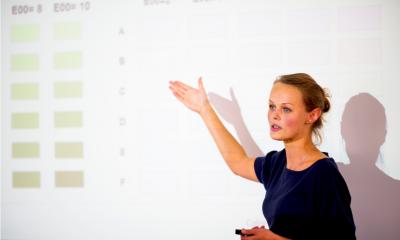 PowerPoint is a powerful tool to help you deliver or explain information to groups of people. However, getting it right is not always easy. These PowerPoint presentation tips will show you how to keep your audience interested
1. Set an objective
Ensure your presentation has a clear objective. Set out your agenda on the first slide and keep it at the forefront as you put together your other slides.
A good tip is to use storytelling principles to move towards your objective in your PowerPoint. Instead of reeling off a list of facts, string the information together with a coherent narrative. This is much more likely to keep your audience interested.
Reiterate your point when you reach the end.
Exclusive discount on Microsoft Office
Get a 10% discount on the latest Microsoft Office 365 Business Premium subscription including Email, Word, Excel, Skype for Business and more.
2. Think about your audience
Always tailor the content of your presentation so it meets the needs of your audience. If you frequently deliver the same presentation, consider varying it a little each time to fit the people in your audience.
For example, if you are delivering your presentation on an overhead screen at an exhibition, the slides must be eye-catching and concise. In a face-to-face client meeting, in-depth analysis, figures and graphs may be more appropriate.
3. Break it down
Divide your presentation into distinct topics and avoid overcrowding your slides.
Generally, three bullet points per slide is enough, otherwise you could overwhelm your audience by cluttering slides with too many points. If you need to elaborate on a point, use another slide.
4. Use interesting images
Using images can help you maintain interest and provide clarity. Take time to locate relevant, interesting images that illustrate your points. These can prove highly memorable to your audience and give your presentation a wow factor.
You can find images in PowerPoint's clip art facility, although the pictures available there can sometimes look tired or cliched.
Alternatively, search picture libraries like iStockphoto, find free photos on Flickr (make sure you choose images which are released for commercial use), or take your own.
5. Choose your delivery method
Consider who you will be presenting to and where you will be making your presentation. You can then decide which is the most appropriate way to deliver it.
You can deliver your PowerPoint presentation in a number of ways: hand out your slides on paper, use a projector, or show it on a standard computer screen.
Usually, it's best to show your presentation slides via a projector while you give the presentation. If you pass out hand-outs, people are likely to spend more time reading these and less time listening to you.
If you can't deliver your presentation face-to-face, you can use a service like GoToMeeting or join.me to share it with others.
6. Look beyond the software
PowerPoint can only get you so far. If your slides look good, that's great. Now you need to spend time practicing the delivery of your presentation. You may also want to consider how to answer any tricky questions.
You should do more than simply read out what's on your slides. Use them as a prompt but try to maintain eye contact with your audience and avoid facing the slides.
A good way to practice your presentation is to video yourself giving it, then watch it back. Once you get past the cringe factor of watching yourself, you can easily identify ways to improve.
7. Invite a response
Include a call to action at the end of your presentation. You could ask the audience to visit your website, approach you for more information or invest in your business.
It's usually a good idea to ask if the people in your audience have any questions. This shows you're genuinely interested in helping them and can spark an interesting debate.
Audience questions can also provide useful ideas for future presentations.