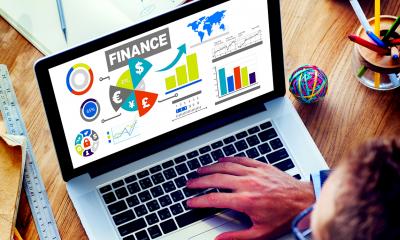 Say goodbye to pages and pages of figures and shoeboxes full of receipts. Accounting software can help you organise, maintain and understand your business accounts
Jo Nockels is a Chartered Certified Accountant who works as senior training and communications manager at TaxAssist Accountants. She answers some key questions about business accounting software.
When should we get accounting software?
"If money is no object, you'd get accounting software from the very start. After all, businesses new and old need to issue invoices and record expenses. Accounting software helps with that and makes your invoices look professional.
"If things are tight, as a minimum you should keep tabs on things with spreadsheets or a cashbook.
"The minute you start to offer credit to customers or get close to the VAT registration threshold, you should look at getting software. Also, it can really help if you handle a lot of transactions."
What are the main things to look for in accounting software?
"Every business is different, so this does depend on your preferences and needs. However, there are a few key features to keep an eye out for.
"Ease of use is vital. Is it easy to navigate your way around the product? Are features where you'd expect to find them?
"It's also handy to be able to email invoices and statements from the software. Some products even show you when your customers have opened invoices.
"You might want to look for software with a mobile app. Some of these can snap pictures of receipts and record transactions - handy for when you're meeting clients.
"If you trade internationally, consider software that can pull in live exchange rates and calculate cross-border VAT, saving a big headache.
"Having said all that, one of the most important things to look for is software that gives you real-time information about the health of your business. This helps you make the right decisions.
"Can your software show you what products are selling well? Which have the lowest - or highest - margins? Do you know what you have in stock at the moment? Accounting software with stock control features and project management capabilities can help answer these questions."
Is cloud accounting software the best choice?
"It's not so much a question of 'should you use the cloud or not?' The most important thing is to stay focused on your requirements, then find software that matches them.
"Having said that, our experience is that there can be some downsides to cloud accounting software.
"For a start, broadband speed is still an issue in some places. If your business struggles to get a reliable, fast connection, then the cloud isn't really an option.
"Security and data storage are not guaranteed with all cloud products. Do your homework and read up about the provisions your chosen provider has in place. Some services go offline when they're being updated, so find out how much downtime they've had recently.
"Think about costs, too. Cloud accounting software is subscription-based, so you continue to pay for month after month. Over time, costs can really accumulate.
"On the other hand, cloud packages usually make collaboration and mobile working much easier. Ask yourself if anyone else should have access to your records: senior employees, in-house accounting clerks, your accountant, and so on.
"If so, a cloud package may allow you to grant access to these different user groups."
What else can we do to choose the right package?
"No matter whether you're going by a recommendation or not, make sure there's a free trial available. And make use of it! It would be a terrible shame to sign up to a product you don't like.
"In a similar vein, check the cancellation details. Some packages let you cancel immediately, but others will hold you to a minimum contract - anything from a month to a year. Just make sure you know where you stand.
"Consider support, too. Not all products include free support, so if you think you'll need some hand-holding, be clear about where you stand. Some cloud products claim to need minimal training - but everyone is different!"
Will accounting software replace our accountant?
"I'm probably biased here, but in my opinion accounting software is something you should use with an accountant.
"When you're starting a business, your accountant can make sure you've taken care of all of the necessary registrations with HM Revenue & Customs and Companies House. Registering late can lead to costly fines.
"A good accountant can also help with business plans and forecasting. They'll manage the expectations of your business - essential if you're seeking investment or finance. They'll also be there for everyday questions like 'can I put this expense through?' or 'can I claim the VAT back on this?'
"Needless to say, if you're self-employed you'll need to prepare year-end accounts and a tax return. Although you can do these yourself, working with an accountant makes sure you're taking advantage of all tax planning opportunities.
"Using a professional should also ensure that you don't miss any deadlines and reduce the risk of errors. Thanks to a more severe penalty regime, even innocent errors are likely to result in a penalty.
"Finally, your accountant can be a good person to bounce business ideas off. At TaxAssist, we only work with small businesses, which means we can give our clients some perspective and serve as a helpful sounding board."
How will the relationship with our accountant change?
"Using software does alter the playing field. It puts you in the driving seat and gives you a direct connection with the results of the business.
"It should be empowering and insightful by showing where your successes are - as well as your weak spots.
"Entering the bookkeeping transactions is an immensely important job, but can be laborious. So when you take on that task, it can reduce what your accountant has to do - and that brings down the cost.
"It also allows your accountant to move into more of an advisory role."
How can we use accounting software effectively?
"Most well-known providers will give you an 'on-boarding' call soon after purchase to see how you're getting on, so it's good to have had a play with the product by then. That way, you can make the most of that call by airing all your questions and niggles.
"Make full use of the support and training available. Webinars, YouTube videos, face-to-face training sessions and so on can all help you use the software to its full potential.
"Always try to maintain the momentum. It's no good getting training if you then don't use the software for a couple of months. Learn, then apply that knowledge.
"Finally, it's not essential, but you might prefer to go for a product that your accountant recommends. That way, they should be able to help if you get stuck."