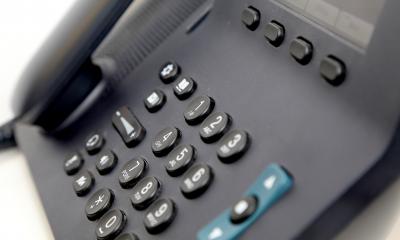 Today's telecoms technology can do more than simply save time and money. You can use the technology to attract customers, manage incoming and outgoing calls, hold conference calls and more.
The right telecoms system will give you the capabilities you want while keeping costs down.
1. The right number
The phone number you publicise for your business can immediately give a customer information about your company and the sort of relationship you are expecting. A non-geographic number can help you present a consistent image of your business and hide its location (if you wish). There are several types of non-geographic numbers.
You can use a freephone number to encourage people to call you
Freephone numbers starting with 0800 or 0808 are free for callers to use. Instead, you pay every time someone calls your freephone number.
These numbers are used successfully by businesses selling to the general public - for example, mortgage brokers, driving schools and local tradesmen.
They are also used by businesses that sell to other businesses. For example, if you sell commodity products to small, cost-conscious firms - such as a tyre distributor competing with many others for telephone orders from garages - a free phone number will be a point in your favour.
Using a single free phone number, you can channel calls by area. So calls from the north are fed to your Manchester office, while calls from the south go to Reading.
Low call charge numbers encourage callers while controlling your costs
These include numbers starting 0845 or 0844. Calling these numbers typically costs about the same as making a local call.
In June 2014, the practice of providing 0845 numbers for customer service lines was made illegal.
Numbers beginning 03 are becoming more popular, partly because of the above, but also because calls to these count towards any inclusive minutes in the caller's phone package.
Low call charge numbers are often used for sales or customer services.
You can also get a 'special services' number starting 087
Calling these numbers typically costs about the same as making a national call.
Your business usually receives a portion of the call charge. You might earn around 3p per minute.
The cost may dissuade some customers from calling these numbers.
There are certain special numbers that can be exploited for marketing purposes
'Golden numbers' that are easy to remember can sometimes be bought from the phone companies, for fees of up to £1,000 each. There is also a 'grey market' in second-hand golden numbers.
Alphadial numbers, where the letters on the phone keys spell out a name, are not widely recognised. They are best avoided.
Premium-rate numbers (starting 09) are generally used to fund a service
They can cost as much as £3.60 a minute to call. Your business will receive a significant proportion of the call charges.
You can use international 0800 if you advertise overseas
The fixed costs are low, at about £100 per quarter. You only pay call charges if you are successfully generating sales leads.
Many UK hotels and holiday companies use this approach to win business.
2. Getting online
Internet access is essential for businesses. High-speed connections are widely available and affordable.
ADSL and fibre are the cheapest ways to connect your business to the internet
They use your existing telephone line to connect to the internet and are generally the most cost-effective option for small businesses.
Fibre is faster than standard ADSL and now widely available from a variety of suppliers.
The connection is always on. Voice calls can be made simultaneously.
Charges are fixed, usually on a monthly basis, although you can make a saving by paying up-front annually.
Service is available across most of the UK, but the speed of your connection may be restricted by your distance from the local telephone exchange.
A range of data transfer speeds, with different prices, are available.
A single connection can easily be shared between several users.
Leased lines are permanently open digital connections used only by your business
A leased line provides the best connection if you need a permanent link between two offices, or if your business has a large number of internet users.
Leased lines provide guaranteed upload and download speeds.
Leased lines are usually backed by comprehensive support and a guaranteed response time if the connection fails.
Leased lines are much more expensive than ADSL and fibre connections and require specialist installation.
They are useful in situations where internet access is absolutely critical.
Once connected to the internet your IT network can be used to handle voice as well
You do not need to have IT resources in-house to unlock the benefits of VoIP. It is cheap to set up and the benefits can be immediately seen, including lower maintenance and call costs.
Professional telephony features include phone conferencing and auto call back.
IP telephony can also be implemented in small chunks - for example, to lower external call costs - or on a larger scale - for example, to get free calls between offices. These building blocks can mix and match with existing phone systems.
VoIP
Voice over IP (VoIP) is a way of making telephone calls using the internet. The sound of your voice is converted into digital information and then sent across the internet.
You can make calls using software on a computer, or through a VoIP telephone
You can call other VoIP users and people using normal telephone lines.
Making calls using VoIP can be much cheaper than using a conventional telephone.
The biggest savings come with international calls. VoIP companies can charge much less because the calls are routed efficiently over the internet.
Services like Skype are a form of VoIP and require nothing more than an internet-connected device containing a camera and microphone.
Many telephone systems will offer the option of placing calls using VoIP
You may wish to place domestic calls using your normal telephone lines, but make international calls using VoIP.
Your telephone system may be able to choose the cheapest option for each call automatically.
With the right equipment, using VoIP is no different to using a normal telephone, yet it can offer significant savings.
Ask your telephone supplier for information about VoIP systems.
3. Call management
Interactive voice response (IVR) systems offer customers a menu
The customer can pick the service or department they want, by following instructions. For example, 'For sales, press one'.
Some IVR systems also respond to spoken numbers or key words. For example, a local garage might ask customers to say whether they want 'new cars', 'service' or 'parts'.
There can be savings, as each call is ideally only handled once, by the right person.
The system needs to be carefully planned, as most people dislike multi-level menus. Many people object to having to deal with a machine at all.
Always provide a direct route for callers who do not fit into the categories.
You can buy inexpensive software to provide IVR for a small firm.
Implemented well, voicemail offers advanced call answering and handling features
Voicemail allows callers to leave a spoken message for the person they are calling.
Some systems allow messages to be forwarded for a colleague to deal with. For example, a sales manager could record a briefing once, enter a code and copy it automatically to the whole sales team.
Some services can convert voicemail to text and send it to the recipient as an email or text message.
Small businesses may benefit from a virtual reception
An agency provides call-answering services, puts callers through to the right extension or takes messages.
4. Call centres
Call centres can be the focus of both outbound activities (such as telesales, lead generation and market research) and inbound ones (such as order processing and customer service).
In-house call centres are replacing many field sales forces
A call centre can be anything from two people drumming up orders for a small wholesaler to a large team in a debt recovery or telesales business. It is the degree of automated support for the operation that makes it a call centre.
Completely automated call centres can sometimes provide adequate service with no human intervention - for example, booking cinema tickets, where callers just need to press numbers.
Computer Telephone Integration (CTI) boosts productivity
Both inbound and outbound calls can be managed more productively.
For example, your customer service system can match a caller's number to data in a contact management database and make the details you need pop up on screen.
The system must be able to integrate with your customer records, whether held in a spreadsheet or your customer relationship management (CRM) system.
Inexpensive software can give outbound operators one-touch dialling plus on-screen scripts and prompts.
Outsourcing to a specialist company may be the most cost-effective strategy
If you need 24-hour staffing or your business is highly seasonal, outsourcing is likely to be cheaper.
If you need expertise you do not have, outsourcing may be more economical than employing more people.
Some internet service providers and software companies outsource the handling of technical queries to specialist call centres.
5. Mobility
Voicemail helps you avoid missing calls while you are on the move
When choosing a system, consider sound quality, whether you can operate the system remotely, and any time limits on incoming messages.
Voicemail can be either a function of your phone system or a network service provided by your telephone company.
Smartphones are the obvious way to stay in touch on the move
Smartphones may increase your total spending on telecoms, but the payoffs extend far beyond the ability to make calls while on the move.
A wide range of calling plans include unlimited calls between people within your business, inclusive data, reduced international rates, cheaper off-peak calls or free text messages. Evaluate your needs carefully before signing a contract.
Set out clear rules about personal use of company mobiles. Call barring can be used to limit non-business calls - or even to bar all outgoing calls.
Ask your supplier about equipment that lets you call company mobiles from your office phone at the cheaper mobile-to-mobile (same network) rate.
You can also get online to access email and the office network
Every smartphone offers access to email, enabling staff to to read and send messages on the move.
Smartphones allow you to browse the web, check emails and run a huge range of business-related apps.
Most smartphone manufacturers offer large-screen variants of their devices. Equipped with this additional screen real estate, your employees can use the internet and read documents while away from the office with ease.
Smartphone internet connections can also be shared with other devices, enabling laptops and tablets to connect to the internet via a feature known as ?tethering? (additional service charges may apply - check your contract).
6. Meetings at a distance
Telephone conferences and videoconferencing are now widely used by small businesses.
However, the ease with which video conferences can be conducted thanks to free services such as Skype has elevated this form of remote meeting above that of audio conferencing, making it an ideal way to meet with disparate team members on an ad-hoc or planned basis.
Video conferences will save money and time
A one-hour video conference takes just one hour of each person?s time, avoiding the addition of travel.
The simplest form of video conferencing takes place via services such as Skype, which are usually free to use and work on virtually any laptop, tablet or smartphone.
Video conferences can include a significant number of attendees and can be linked to calendar appointments for pre-scheduled meetings
Video conference platforms like Skype also enable attendees to send attachments, chat via text and share their screens.
Phone conferencing is also economical for small firms
Participants can be brought in and dropped out of the meeting. People can also take part using mobile phones.