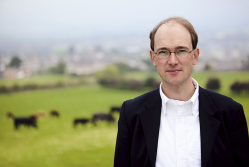 Penrith-based Penrillian develops mobile technology and apps. The company has produced everything from contactless payment apps to self-service transport and ticketing apps
"We take an agile approach to the way we work," explains Charles Weir, the company's chairman and technical director. "Our software engineers, who build our products, tend not to have their own desks. They might be working at a desk with someone else. Or they might be in a meeting. But they're moving around – not static."
However, for several years the company made do with a traditional telephone system. "We had a telephone exchange with ten extensions shared between everyone," explains Weir. "The people who spent most time on the phone got their own extensions."
A new phone system for a new office
In 2010, Penrillian moved offices. Weir saw this as the opportunity to switch to a telephone system better-suited to the company's needs. After all, why have fixed phones if the people using them don't stay in one place?
"Our existing telephone supplier said they could sort something out," explains Weir, "but every solution we looked at had very high charges when calling out from mobile phones."
Aware that systems which are cheap upfront could have high ongoing charges, Weir eventually plumped for One Net, a secure cloud-based service from Vodafone combining desk and mobile phones. "One Net offered reasonable value all-round," concludes Weir. "That was what persuaded me."
Mobile phones in the office
Penrillian's new system offered lots of flexibility. "Some people have desk phones, some have mobile phones, and some have both," explains Weir. "Generally speaking, most people use just mobiles."
Outgoing calls can be placed either from desk phones or from mobiles. Incoming calls are directed to the relevant person, no matter where they are. "The receptionist takes each call and puts it through to whoever it's destined for," summarises Weir. "It doesn't matter if it's a mobile or a desk phone."
Callers only have to dial one number to reach the person they need. Calls can even be forwarded to people who are away from the office, although Penrillian tends not to use this facility. "People generally don't want to take incoming calls when they're out of the office," explains Weir.
Getting to know the new telephone system
Rather than using traditional telephone lines, the new system routed phone calls over the internet, using VoIP. "We have a dedicated broadband connection," confirms Weir, "plus a gadget which runs connections to each desk phone."
These connections use standard computer network cables. "It makes it much easier to provide additional capacity," says Weir. "Our office is all wired up already, but it's more likely we'll give mobiles to most of the staff we take on." With plenty of spare capacity on the broadband line, there's no need to add new telephone lines as the business expands.
Telephone flexibility that pays
The odd teething problem aside, Weir was very happy with the extra flexibility. "It's made it easier for us to work the way we've always worked," he enthuses. "Our team tends to work in pairs, but you don't know which desk they're at. That was a headache for our receptionist before."
Some of the smaller features have delighted Weir too: "To me, the great joy of the system is being able to dial a three-digit extension on my mobile."
Penrillian's new telephone system did cost a little more than the previous setup. "On the whole, it is more expensive," reflects Weir. "But we have double the number of handsets, which means we can directly get calls to and from everyone I want to reach. That's worth a lot to our business."