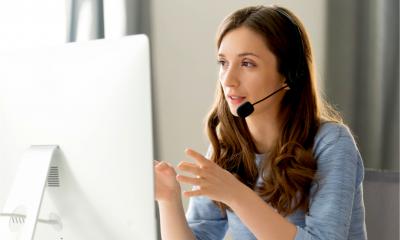 Connecting with your customers and your staff is more important than ever, which is why at the heart of every successful business is an effective business phone system. Cost-conscious businesses are increasingly switching from expensive fixed-line business phone systems to flexible,cloud-based platforms – saving them time, money and improving business efficiency.
If you're looking for a new business phone system, but don't know where to start you're in the right place. In this article, we answer some of the most frequently business phone questions.
Do I still need a business phone system?
Quite simply, yes. Every business – from a single-person start-up to the largest companies on the planet – needs a phone line that customers can use to contact them.
As businesses grow and more staff become involved, a dedicated business phone system is crucial. Employees can use it to contact suppliers and customers, as well as talk to one another.
Previously, businesses would have to invest in fixed-line phones with lengthy line rental agreements and expensive call plans. But not today.
As the way we work and live has been transformed by affordable digital technology and the internet, so have business phone systems and cloud-based communications platforms.
What are the types of business phone system?
Business telephone systems can be split into three camps:
A traditional fixed-line business telephone (PBBX) system installed at your place of work.
A VoIP system hosted on your premises (IP-PBX) that uses a specific type of phone called a SIP-phone for calling.
Cloud-based VoIP (Voice over Internet Protocol) business phone system that uses the internet to make, take and route calls.
In summary, the main differences between different types of business phone system are:
Fixed-line telephone systems are more expensive to install, but are highly secure and not reliant upon the internet for calls.
VoIP systems hosted on your premises are cheaper to make calls than fixed lines but need a reliable internet connection, and you'll need dedicated hardware.
Cloud-based or VoIP business phone systems are more affordable to purchase, and are more scalable and flexible than the other options – but they too rely on a stable and robust internet connection to make and receive calls.
What is VoIP?
VoIP systems work in the same way as fixed-line telephone systems, except they use the power of the cloud instead of wires. A VoIP system uses the internet to enable you to make calls and to receive them.
There are two approaches to introducing VoIP for your business. You can self-host your own VoIP system, by creating a VoIP server and hosting it in a data centre, with your staff using SIP-enabled hard phones.
Or you can use a hosted service, such as Skype, which supplies the necessary infrastructure - you can use your mobile to make calls or a headset connected to your computer.
Should I choose a self-hosted VoIP or cloud-based VoIP system?
The choice between a self-hosted VoIP or a cloud-hosted VoIP business phone system will depend mainly on the space available for telephony equipment and your budget.
Self-hosted systems offer you complete control of the hardware and create a secure system, but cloud-based VoIP phone systems are quicker to deploy and easier to scale should your business grow. But, costs are much higher with equipment purchase costs, installation and maintenance.
Cloud-based telephone systems are increasingly popular among start-ups and small businesses who are keen to control overheads and minimise fixed costs. You'll pay a monthly fee for the service and can use your existing mobile or a headset plugged in to your computer. Start-up costs are low and flexibility is high.
How can VoIP save me money?
VoIP business phone systems can save you money in several ways. Firstly, your monthly bills will be lower than if you were renting physical lines, with call costs a fraction of those on fixed lines – particularly if you're calling international numbers. This is true of both self-hosted VoIP systems, and cloud-based platforms.
With a cloud-based VoIP provider, you're not stuck into a lengthy contract either, so you can change or end the agreement whenever you wish, typically with a month's notice. It's simple – and cheap – to add additional phone numbers and lines as you need them, scaling with your business.
Maintenance costs are non-existent, as the software provider takes care of updates and the equipment costs are much lower too.
If you're starting up, a VoIP system can enable you to create a virtual office, giving a big-company impression to potential customers without the overheads.
How can a cloud-based business phone system increase efficiency?
Cloud-based business phone systems allow you to break free of wires, and take your business phone number wherever you go. It's easy to set up call forwarding to a number of your choice, and it takes just seconds to switch it back again, but that's only one benefit, here are some others:
Call routing – virtual call routing lets administrators set up teams so inbound calls can be routed to the right people. You can also control inbound calls by number, user or team.
Dynamic Caller ID - dynamic caller ID allows you to choose the phone number you'd like to dial-out from. This is perfect for people who are part of multiple teams or businesses.
App connectivity – cloud-based VoIP systems are usually supported by a free mobile app that you can download to your phone. This can enable you to make and take calls, track calls and monitor activity logs.
Out of Hours Routing – users can set days and times you are available, route calls to another team, menu or external number to ensure you never miss an opportunity.
Virtual voicemail - If you miss any calls, all voicemails can be converted to text and sent to your activity feed or email saving you time instead of having to listen to the voicemail.
What is the cheapest business phone system?
A cloud-hosted VoIP platform is likely to be the cheapest option for any business, but that doesn't mean it's the right one.
Before committing to a provider, ensure that you've done your due diligence. Check the user reviews to see what other users think of the platform. Bad news travels fast on the internet, so a little bit of research should provide crucial reassurance.
Do I need to sign up to an annual contract with a VoIP provided?
VoIP and other cloud-based telecoms providers operate software as a service (SaaS) model. The industry standard is to offer customers a rolling monthly contract with the option to cancel at any time without penalties.
An annual subscription may be cheaper (in some case, substantially so) but a monthly VoIP subscription for your business offers maximum flexibility.
How can I choose a business number?
There are various types of business phone numbers that you can choose from. If your business serves your local community, then it's wise to choose a geographic number so that potential customers know you're local. Companies with a national or international profile, or those who want to appear larger, may choose a non-geographic number.
Your VoIP business phone system provider should be able to offer you the choice of a local phone number, a UK national number or even an international number if you require one.
What is the best business phone system?
Selecting the right business phone supplier should begin by asking yourself three questions:
Do you require a full business phone system that includes physical office telephones or could you, your business and your staff use mobile phones instead?
If you require physical devices, is your internet connection fast and robust enough to support a VoIP phone system?
If a VoIP system is a possibility, do you want to host the equipment or rely on cloud hosting?
The answers should help you identify whether a fixed-line phone system or VoIP business phone system is right for you. The next stage is to narrow down your search to a selection of providers that you can then scrutinise in greater detail.