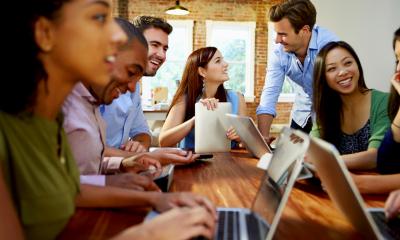 The digital world we now live in makes it easy for the people in your business to work together even if they aren't all in the same place. And while purpose-built collaboration tools can help you work much more efficiently, you can accomplish a surprising amount using IT that you already have, or that you can acquire at very little cost
Communication tools
Sharing information
Your intranet is a private website for use by people in your business. You can keep important files and other information like project announcements here, so everyone knows where to find them. If you're a small company without a full-on intranet, some free online storage can be a good place to keep key files. Try OneDrive.
File sharing apps allow employees to securely access and share files and data. Popular options include Google Drive and DropBox.
Shared diaries. If you still arrange meetings by calling everyone separately, shared diaries could save you bags of time. Some email and communications software - like Microsoft Outlook - lets you send meeting requests to colleagues that appear in their diary once accepted. You should also be able to check when people are free before sending a request - avoiding the dreaded phone ping-pong.
Communicating with the outside world
Your company website is a crucial tool for telling potential customers and suppliers all about your business and products. Even if you do not plan to include ecommerce functionality, you can share product specifications and demonstrations, price lists, answer frequently asked questions, provide contact details and opening times and directions - especially if you want your site to drive customers to your bricks and mortar store.
Social networking services like LinkedIn, Facebook and Twitter can be useful to build broad teams, company-wide groups or even communities of interest around your business. They are a good way of communicating with large numbers of people. Some companies use them to organise social activities, reach out to potential recruits or stay in touch with ex-employees.