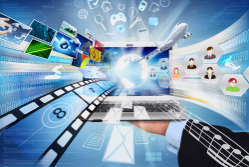 Thanks to a vibrant developer community and the increasing dominance of mobile devices, there's now a colossal range of apps from which business owners can choose to help with all aspects of running their company. But with so much choice, how do you decide which mobile apps are best for your business?
From keeping on top of your finances to increasing productivity and making your files readily available wherever you are, we've picked out our top 5 mobile apps for business.
A note on platforms
The mobile device landscape continues to evolve and there are a number of operating systems businesses can choose from when deciding on hardware for their business. We believe two stand out as the main contenders given the devices available and developer support.
iOS: Apple devices, including iPhone and iPad (but also incorporating the Apple Watch)
Android: Google's mobile operating system that runs on a huge range of devices from manufacturers such as Samsung, Motorola and Google's own Pixel range
Before choosing a mobile device for your business, always check the relevant app store to ensure your favourite apps are available on that platform.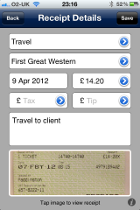 1. Mobile apps to help with your finances
If you're fed up of tracking your receipts and expenses in a cumbersome spreadsheet, Xpenditure may be your knight in shining armour. By using your smartphone's camera, this app provides a quick way to photograph and store receipts.
It doesn't stop there, though, because Xpenditure will automatically scan the receipt and pick out the pertinent information such as the amount, VAT, date and merchant. Time tracking and integration with accounting software such as Sage and Xero complete a compelling app for anyone needing to track expenses.
Available for: iOS and Android
Price: Free
Also consider:
Accounting heavyweights Sage and Xero now have very compelling mobile apps, but it's also worth checking out Toggl if you need to accurate track your time, and FreeAgent if you're a freelancer looking for an easy route into digital accounting.
2. Mobile apps to keep you organised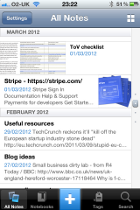 We're a forgetful bunch, which is why software such as Evernote is such a welcome addition to the world of mobile productivity. On the face of it, Evernote is simply an advanced note taking app, but it's so much more than that when you dig deeper.
You can save media of all kinds (text, web pages, images, drawings, etc) to any number of notebooks within your Evernote account and sync those notes with multiple devices and the web-based client. It also has powerful team features that enable chat and collaboration when notes require input from several people.
Available for: all major mobile devices and desktop
Price: free for basic account and features
Also consider:
LastPass is a brilliant app for aiding the tricky process of password management, while todoist and Trello are great ways to manage to-do lists and large projects.
3. Mobile apps for when you're travelling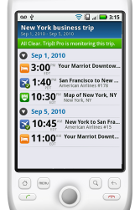 TripIt organises all the details of upcoming trips you're planning so you can find information about flights, hotel bookings, train tickets, car hire and so on in one place.
To create a trip, you forward your booking confirmation emails on to a special TripIt email address. The app automatically reads these and then adds the details to your itinerary, which you can view and update from your mobile device.
Available for: All major mobile devices
Price: Free for basic features
Also consider:
If you spend a considerable amount of time in the car, Google Maps remains one of the best ways to navigate with live traffic and automatic re-routing. Waze (iOS and Android) is an excellent, free alternative to your satnav that relies on user data to build maps and routes. On a related note, driversnote offers a great alternative to scribbling your mileage on your hand.
4. Mobile apps for data access and storage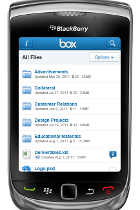 Box lets you store, organise and share your files online and across multiple devices. This is particularly useful when you're out and about and need quick access to a document or PDF brochure, for example.
Box also offers compelling upgrade options for businesses and individuals looking to consolidate their file storage.
Available for: All major mobile platforms
Price: 14 day free trial, then from £3.50 per month for 100GB
Also consider:
Dropbox is a compelling alternative to Box with a very similar feature set, albeit a smaller 2GB of free storage. For Windows aficionados, OneDrive is a great platform with deep Microsoft Office integration and compatibility with iOS.
5. Mobile apps to make you more productive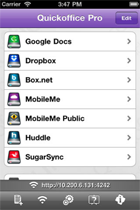 A compelling alternative to its Microsoft Office counterpart, Google Docs is a fantastic, free suite of applications ideal for businesses that have staff regularly on the move or situated remotely.
You can create and collaborate on spreadsheets, documents and presentations and all file storage is handled by Google's servers, making all of your files available, wherever you are and no matter which device you have to hand.
Available for: iOS and Android
Also consider:
Office 365 is available for iOS and Android and offers desktop-class versions of Word, Excel, Powerpoint and Outlook. For those looking to fully exploit the GTD (Get Things Done) philosophy and really optimise productivity, Omnifocus takes some beating.