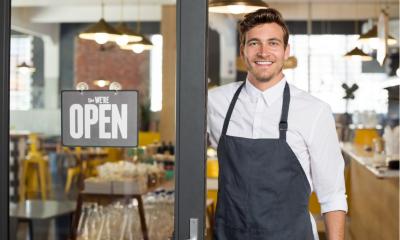 The Federation of Small Businesses has partnered with Le Cordon Bleu to give aspiring entrepreneurs with a food business idea the chance to turn their dream into reality.
The Federation of Small Businesses (FSB) has teamed up with the renowned Le Cordon Bleu London to launch its annual Julia Child scholarship. It aims to provide would-be food entrepreneurs with the tools to get their enterprise off the ground. Applicants don't necessarily need to be great at cooking but they do need a strong business idea.
The prize is worth over £40,000. It includes a year's membership of the FSB; a place on Le Cordon Bleu's Diplôme de Pâtisserie; a three-month Le Cordon Bleu diploma in culinary management; an internship at the Savoy Hotel; and one year's luxury accommodation in central London.
Exclusive discount on Microsoft Office
Get a 10% discount on the latest Microsoft Office 365 Business Premium subscription including Email, Word, Excel, Skype for Business and more.
The UK food sector grew by 89% between 2000 and 2017, more than the economy as a whole (86%); and more than 28,000 new food businesses opened in the UK in 2017.
"Despite the pressures facing many small businesses - particularly those on the high street - there's a world of opportunity to succeed as a food and drink entrepreneur," said Mike Cherry , FSB national chairman.
"It's fantastic that the scholarship this year is looking to reward someone with a fresh and innovative food or drink business idea and we look forward to helping them on their exciting journey with FSB membership and business advice."
Chef Emil Minev , culinary arts director at Le Cordon Bleu, said: "Le Cordon Bleu has a long-standing reputation of training the finest chefs and most innovative food entrepreneurs in the world. This year's scholarship ? offers a unique platform for those with exciting food business ideas."
The 12-month scholarship begins in January 2020. Central London accommodation will be provided by Londonist for the duration of study. All candidates must be aged 18 and over, have UK residency and must submit their application via the Le Cordon Bleu website by 16 June 2019.
Written by Rachel Miller.