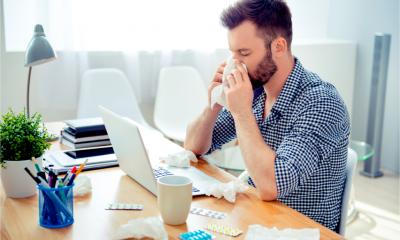 The "always on" culture means that many employees work outside of their contracted hours or when they are ill, according to a new report on wellbeing at work.
The latest Health and Wellbeing at Work survey conducted by the Chartered Institute of Personnel and Development (CIPD) and Simply Health has found that 77% of employers say they have observed presenteeism - people working when unwell - in employees who are working from home in the past year. This is slightly higher than levels of presenteeism in employees attending the workplace (75%).
The survey of 668 HR professionals, representing 2.7 million employees, also found that leaveism - working outside of contracted hours or using annual leave to work or when ill - is an issue for 70% of employers polled.
What's more, the vast majority (82%) of employers are concerned about the impact of COVID-19 on employees' mental health. As a result, over half of organisations have increased employee wellbeing support or benefits, while just over a third are focusing more on providing virtual health services. However, the research reveals that over two-fifths experiencing presenteeism (43%) and leaveism (47%) aren't taking any action.
These findings suggest that many organisations haven't taken any steps to combat the risks of an "always on" culture during the pandemic. Boundaries between work and home life have become increasingly blurred for many people working from home, making it difficult for people to switch off.
Rachel Suff, senior policy adviser, employment relations at the CIPD, said: "The COVID-19 pandemic has put a huge strain on employers and individuals. Employers should take a strategic and preventative approach to wellbeing in order to tackle work-related stress and unhealthy behaviour like presenteeism and leaveism and this must be role modelled by those in senior positions. They should also recognise the important role that line managers play in supporting individuals with their health and wellbeing. Managers should be equipped with the appropriate training, support and guidance needed to do this effectively."
The report identifies three key areas for improvement:
Line managers need the right training, knowledge and skills to support people's health effectively;
Employers need to take a more strategic approach to enhance wellbeing, prevent ill health and support people when they become unwell;
Organisations must increase investment in wellbeing - just 26% said their allocated budget for wellbeing benefits has increased as a consequence of the pandemic.
Written by Rachel Miller.