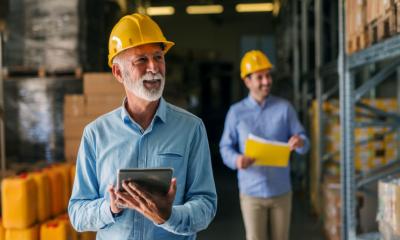 A new survey of small business owners has found that seven in ten remain confident about their prospects in spite of rapidly rising prices and hiring challenges.
Insurance provider Simply Business has polled over 1,000 small business owners from across the UK to find out how they are responding to the current economic climate. The findings, published in its SME Insights Report, show that 70% of small business owners say rising costs is the biggest challenge in 2022 and 49% say they will be forced to increase their prices over the next six months.
One in five (21%) intend to raise prices by 6-10% and for 7%, these increases could be by as much as 20%. The findings also show that 40% of business owners are putting plans on hold to open new or additional premises for the next six months; 48% say they are unlikely to hire any extra staff; and 20% say they're unlikely to purchase any new equipment.
However, despite the fact that 62% of business owners believe the economy is set to worsen over the next six months, 71% of owners say they are confident about their business' prospects.
This level of optimism is in stark contrast to levels reported during the pandemic when, in September 2020, 17% of business owners predicted that their business wouldn't survive another lockdown. Almost two years on, 34% now say they're more confident about their firm's prospects than six to 12 months ago.
Commenting on the research, Jonathan Portes, Professor of Economics and Public Policy at King's College London, said: "Small businesses in the UK have had to cope with overlapping economic shocks over the past three years - the pandemic, Brexit and now the cost of living crisis. What this study shows is that despite the general economic pessimism, most businesses remain resilient. Like consumers, they expect the UK economy to worsen significantly over the next year, but they remain reasonably confident about their own prospects in the face of rising cost pressures."
Further support for small businesses was announced last week as the UK government extended the £4.5 billion Recovery Loan Scheme for a further two years. The scheme offers government-backed loans to small businesses; nearly 19,000 businesses have joined the scheme since it launched in April 2021. Under the scheme, the government will underwrite 70% of lender liabilities, at the individual borrower level, in return for a lender fee. The maximum loan size is £2 million.
Shevaun Haviland, director general of the British Chambers of Commerce (BCC), said: "The two-year extension to the Recovery Loan Scheme will be a lifeline for many businesses facing a rising tide of costs. It is now essential that businesses in need of this extra support can access the scheme as quickly as possible to make sure they get help before it's too late."
Written by Rachel Miller.