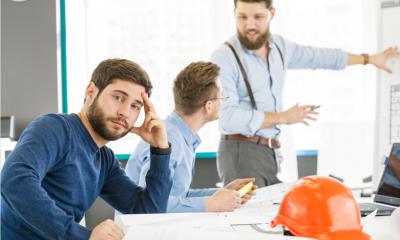 A new poll of employees working in UK small businesses has revealed that four in ten of them have quit because of a bad boss.
A survey of 1,000 employees within UK small businesses, conducted by TLF Research on behalf of Process Bliss, has found that 45% have quit a job because of a boss and four in ten do not feel trusted or valued by their current boss.
The research also reveals that 60% of UK SME employees believe the business would work better if they were left to get on with their job, while 40% of respondents said that company productivity is adversely affected because their boss interferes in their role. In fact, 42% of SME employees said they could do a better job than their current boss.
"Being a strong and effective SME leader is one of the toughest challenges someone can face," said Alister Esam, ceo of Process Bliss. "People always assume that because someone is the boss they know exactly what they are doing, but the truth is that many bosses are simply making it up as they go along.
"A good leader will support the business and make sure it has what it needs to be successful, ensuring that employees are empowered to make their own decisions and are motivated and happy in their role."
Some of the main criticisms of SME leaders concerned delegation and management style. Other key faults identified by respondents were:
Showing favouritism to particular colleagues (28%);
Taking credit for an employee's work (27%);
Micromanaging (27%);
Not being clear when asking for a job to be done (25%);
Not acknowledging or giving thanks when someone does a good job (23%).
There were also some marked differences between male and female bosses. Male bosses were more likely to be criticised for micromanaging, delegating too much, taking credit for others' work and not being clear when asking for a job to be done; female bosses were more likely to show favouritism and try too hard to be a friend.
On a more positive note, half of those polled said that they found their boss inspiring, while 58% said that their boss is open to being challenged. When asked to give their boss an overall rating out of ten, the average figure for UK SME bosses emerged as 6.7.
Written by Rachel Miller.