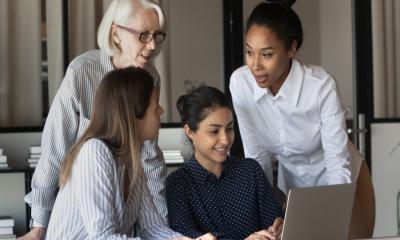 The UK government's Help to Grow: Digital scheme has been expanded to businesses with at least one employee; as a result, up to 1.2 million small firms can now get discounts on the latest digital technology.
The Help to Grow: Digital scheme offers UK small businesses discounts worth up to £5,000 on approved software. From this week, the government has extended the eligibility criteria so that any business with one to 249 employees can now access the discounts. Previously, only businesses with more than five employees were eligible for the scheme. Government figures suggest that this boosts the number of eligible businesses by 760,000 so that it reaches up to 1.24 million small firms.
Also from this week, the software on offer under Help to Grow: Digital includes ecommerce as well as CRM and digital accounting. Research suggests that businesses which adopt ecommerce software see on average a 7.5% increase in sales over three years.
Through the Help to Grow: Digital scheme, businesses can access a £5,000 discount on 30 software solutions from 14 leading technology suppliers, including Sage, Crunch, Quickbooks, Big Commerce, Shopwired, Capsule CRM and Gold-Vision CRM.
Business minister Lord Callanan said: "Boosting productivity isn't some abstract concept to be sniffed at - for individual SMEs it means bigger sales and breaking into new markets. It can add £100 billion to the British economy overall, creating jobs and opportunity across the country."
The Help to Grow: Digital scheme sits alongside the Help to Grow: Management scheme, which offers business leaders 50 hours of leadership and management training across 12 weeks, with government covering 90% of the costs involved.
Research by the Federation of Small Businesses (FSB) has found that the smallest firms are the least likely to have adopted tech products because of a lack of resources - even though they stand to make the most productivity gains through adoption.
This is supported by the findings of a new survey by SumUp that has found that a worrying 24% of new businesses don't use technology in their first year. However, just 3% of firms are not using technology by the time they have been trading for four years. Overall, 91% of entrepreneurs make use of technology to run their business. The most common software used is for sales (used by 26%) and marketing (24%).
Commenting on the government announcement, FSB national chair Martin McTague said: "Until today, the majority of small businesses were arbitrarily excluded from the scheme due to the requirement to employ at least five employees. Many of them want to make productivity gains through technology adoption. However, they often do not have the resources to do so, especially when they are faced with steep inflation, soaring energy bills, supply chain disruption and a widespread labour shortage under the cost of doing business crisis.

"Reducing the threshold to one employee really makes a difference in this space. Together with the addition of ecommerce software and one-to-one advice for SMEs on technology adoption, this will enable more small businesses to fulfil their growth ambitions and in turn spur our economy."
Written by Rachel Miller.