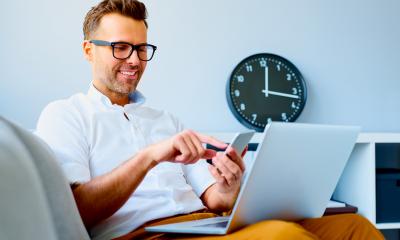 Apps can save you time, improve your productivity, help you relax or simplify complex tasks. Here's our pick of the best 20 apps around that could make your life a little bit easier
If you love a to-do list, then you'll love Trello. This project management tool uses boards, lists and cards to organise tasks. It's popular with professionals and teams that collaborate on projects. With its colourful layout and drag-and-drop functionality, Trello is easy to use and helps keep people on task.
Cost: Free and paid-for versions.
This app reads business cards in 17 languages and stores the details in a contact management system that you can access from your computer, tablet or smartphone. Camcard also allows you to add notes and images and set reminders.
Cost: £0.49.
Slack started life as an in-house communication solution designed to cut down on internal emails. Now it's used by some three million business people. This cloud-based messaging app offers direct messaging, group chats and file sharing. It promises to significantly reduce your internal email and boost productivity.
Cost: Free and paid-for versions.
Everything you need to run email marketing campaigns in one place - from design templates to A/B testing tools and analytics. MailChimp integrates with lots of other popular apps including Facebook, Twitter, Eventbrite, Google, Salesforce, Shopify and SurveyMonkey.
Cost: "Forever free" and paid-for versions.
Switching off can be really hard when you run your own business. These guided mindfulness meditations have millions of fans; Headspace promises to reduce stress and even lower blood pressure. Start with a free ten-day trial; subscription models provide access to longer courses of daily meditations.
Cost: From £9.99 a month to £71.88 annually (family plan also available at £14.99 per month).
Hootsuite can help you manage multiple social media accounts from one dashboard - making your social media marketing more effective and saving you time. Share and schedule posts from Facebook, Instagram, Twitter and LinkedIn; and manage all your social media activity on the go.
Cost: Free for up to three social media profiles.
Evernote is a cloud-based app that can store and organise your ideas, files, notes and photos. When inspiration strikes, Evernote provides an intelligent storage solution for anything you want to remember - even web pages. You can then access all your notes and files via your smartphone, tablet or computer.
Cost: Free and paid-for versions.
Upwork connects freelance professionals with clients; the Upwork app allows you to get job invitations on the go, let clients know you're available and get hired fast.
Cost: Free
My Happy Place gives you a dedicated home for anything and everything that makes you happy - including songs, pictures, quotes, videos and diary entries. This app is the place to go when you're looking for inspiration and you want to remember what's important in life.
Cost: £0.99
This app allows you to save anything you find online that you might want to look at again - from articles, blogs and videos to recipes and songs. Instapaper syncs the content you save so that it's waiting for you on all your devices - iPhone, iPad, Android or Kindle. You can then read, watch or listen to anything you have saved, even if you're offline.
Cost: Free
This handy travel app takes all your bookings - flights, trains, car hire, hotels and so on - and turns them into one easy to use itinerary. You just forward all your booking confirmations to a special TripIt email address, and the app does the rest.
Cost: Free and paid-for versions.
When you're planning a meeting, finding a time that everyone can make can be hard. To avoid sending endless emails in order to get a date in the diary, Doodle asks all participants to vote on the dates they can do; it then works out when the event should take place and informs everyone of the final decision.
Cost: Free and paid-for versions.
Microsoft To Do is a new app which replaced Wunderlist in May 2020. Microsoft To Do helps you get more done. Organise your to-do lists, set deadlines and reminders and share tasks with colleagues. You can also turn emails into actions by forwarding them to Microsoft To Do.
Cost: Free and paid-for versions

You can move old Wunderlists to Microsoft To Do in three easy steps (learn more at wunderlist.com/switch).
A "connected hub" where teams can create, discuss and organise projects, Quip promises to allow you to get more "real work" done by freeing up time spent on finding, editing, sharing and storing files and discussing changes with your team. They've also recent introduced a new integration with the Salesforce CRM.
Cost: Free trial and a range of paid-for versions.
This app allows you to clear the clutter out of your inbox and better manage your email by showing you all your subscription emails in one place and giving you the chance to unsubscribe with one click. It also gives you the option of combining your favourite subscriptions into one daily digest email called the Rollup.
Cost: Free
This app provides a simple way to find out what other people think about your brand, your products and your marketing. Whether you want to poll existing customers, staff or prospects, Survey Monkey allows you to create surveys and learn from the results - all from your smartphone.
Cost: Free and paid-for versions.
If you don't want to have to take copious notes in meetings, Cogi offers a clever way to record the important points. Whenever something is said that you want to capture, you just tap the highlight button. These snippets are kept together so you can listen back to the key points after a meeting.
Cost: Free and paid-for versions.
This timesheet app helps you improve your time management and increase productivity. You can also use Toggl to keep track of your billable hours.
Cost: Free and paid-for versions.
Addicted to your phone? Easily distracted by online games or social media? If you want to stay on task for a specific length of time, Forest allows you to plant a seed and watch it grow into a tree - as long as you resist the temptation to leave the app.
Cost: £1.99.
Breathing exercises can help manage stress, anger and anxiety. With Breathe2Relax, you tell the app how stressed you are; it then uses narration, video, animation and graphics to teach you diaphragmatic breathing.
Cost: Free